Fujifilm FF220002 Camera Registration Spotted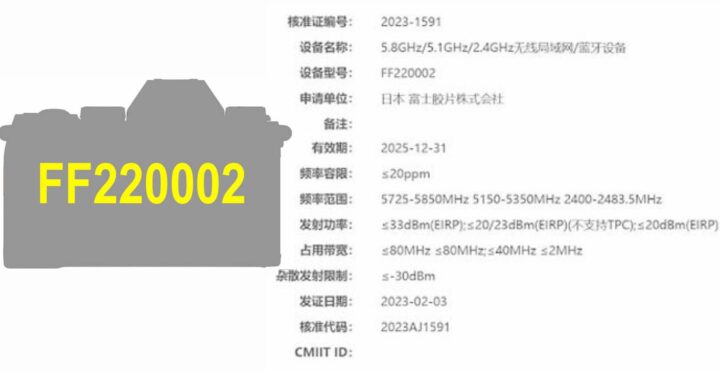 Nokishita spotted a new Fujifilm camera registration with the code name FF220002.
The Fujifilm "FF220002" supports 5GHz Wi-Fi, which lets digicame-info speculate that it may be a higher end model.
Anything goes, from the Fujifilm X-Pro4 to a new X100 camera, a new GFX or even a mid-range camera (such as the rumored Fujifilm X-S20 or a Fujifilm X-E5 or Fujifilm X-T40) considering that Fujifilm is using 5GHZ WiFi also in sub $1,800 cameras.
What it is certainly not is all that entry level stuff like Fujifilm X-A8, Fujifilm X-M2 or Fujifilm X-T300, which Fujifilm declrared dead.
It usually takes 1 to 6 months for a camera to become public after a registration has been spotted.
NOTE: Sometimes registartions are even spotted AFTER the camera has been launched, so for example the X-E4 registration. But this does not seem to be the case with the FF220002.
via digicame-info
100% Fuji Colors Power
Rumors and Discussions