Fringer EX-FX (Pro) II Smart Autofocus Adapter Firmware 2.00 Released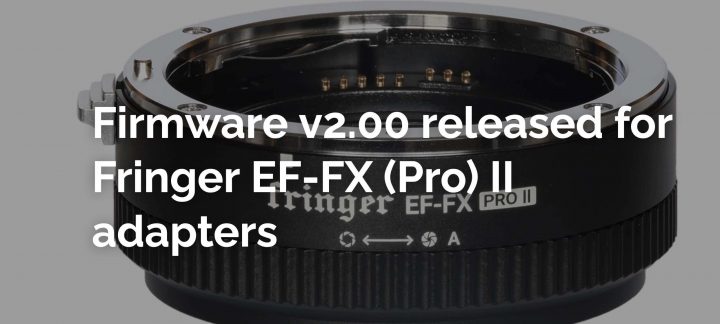 Fringer has released firmware 2.00 for the Fringer EF-FX Pro II and Fringer EF-FX II smart autofocus adapters, which fixes some issues that have been bothering the Fringer adapters for a long time.
Full details below:
Version 2.00
Bug fixed: When cameras equipped with X-Trans IV CMOS (X-T3, X-T4, X- S10, etc.) work with some of fast, telephoto and macro lenses, there may be repeatedly AF hunting when aperture isn't wide open.
Bug fixed: On some cameras like X-T3, after a photo was taken, if playback button is pressed and then shutter button is half-pressed in short time, the camera may be frozen until the adapter or the battery is taken off the camera.
Bug fixed: There may be abnormal chromatic aberration on photos taken by some lenses that haven't been optimized.
Fixed PDAF issues for some lenses of the following models: Lens didn't get recognized by the adapter due to different lens firmware version.
– SIGMA 24-35mm F2.0 DG HSM A015
Fixed IBIS issues for the following lenses:
– EF-S 60mm F2.8 Macro USM
– IRIX 15mm F/2.4
Added following lenses to the tested and optimized lens list:
– Sigma 14mm f/1.8 DG HSM A017
Fringer adapters can be ordered at B&H Photo, AmazonUS and Adorama.
Please visit the official website to download the firmware and its release notes. Follow the instructions in the release notes or user's manual to update your adapter.
via Fringer