Fringer EF-FX Adapter Firmware 1.30 for Gen2 and 3.10 for Gen1 Released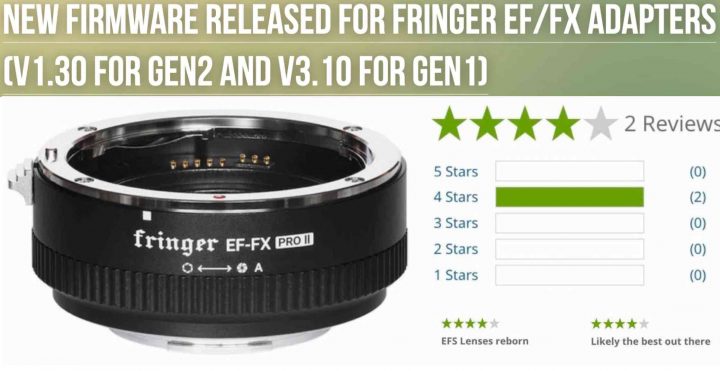 Fringer has released firmware updates for the following smart adapters:
EF-FX Pro. 3.10 – EF-FX Standard v. 3.10 – release notes
Be noted: V2.10 is the new baseline version. V1.x must be upgraded to V2.10 before installing firmware V2.20 or later. Baseline version: EFFX210P.BIN (125,248 bytes, for Pro) EFFX210S.BIN (124,912 bytes, for Std.)
Fringer EF-FX Pro II Customer Reviews at BHphoto
Firmware Details
In addition to those function updates introduced by both V1.30 (Gen2) and V3.10 (Gen1), v1.30 firmware also fixed a bug in Gen2 adapters.
Make sure you download the correct file for the corresponding product. For Gen1, i.e. EF-FX Pro and EF-FX, you need firmware file named EFFX****.BIN. For Gen2, i.e. EF-FX Pro II, you need firmware file named EFX2_****.BIN. Using the wrong file will not damage your adapter. But it will not install.
Please visit Fringer official website to download the new firmware, release notes and user's manual.
To upgrade your adapter, connect it to a computer through a USB Micro B cable. Copy the corresponding firmware (.BIN file) to the emerged drive named "FRINGER". Wait for 20 seconds. The adapter will upgrade itself.
The Fringer EF-FX Pro II can be ordered now at Fringer web store. They accept orders worldwide.
via Fringer