First Image of Godox X1T-F Flash Trigger for Fujifilm + Godox TT350F is Shipping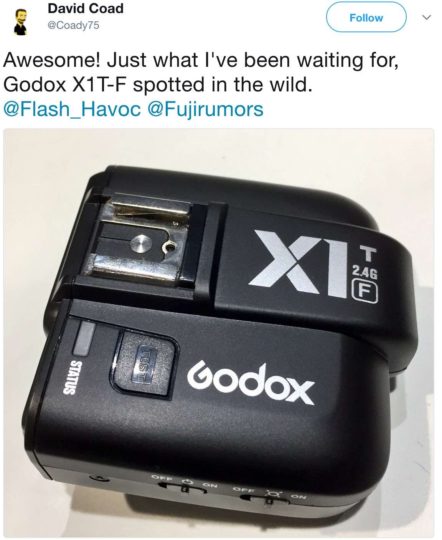 FR-reader David just shared with FujiRumors Twitter the image of the Godox X1T-F Wireless Flash Trigger Transmitter for Fujifilm. The Godox X1T-F is now in final production and I guess it will be available for pre-order soon.
You can already pre-order the Godox/Flashpoint TT685F and V860IIF for Fujifilm.
At the end of June Godox will ship the Godox TT350F for Fujifilm cameras. Check it out at AmazonUS, at Adorama and at AmazonUK.
Godox Plan:
TT350 Olympus and Fuji
If TT350 is good, Move to TT685 and V860II.
If all is good move to X1 Fuji and X1 Olympus.
The same time firmware update for all 2.4G light accept Fuji and Olympus
AD200 60 bulb LED light head
UPDATE: Godox TT350F is shipping – via GFX facebook group