Godox TT350F for FUJIFILM Available at AmazonUS on June 30, 2017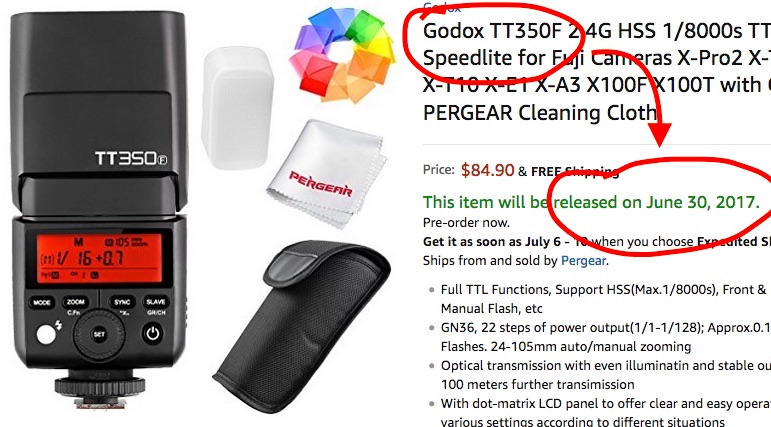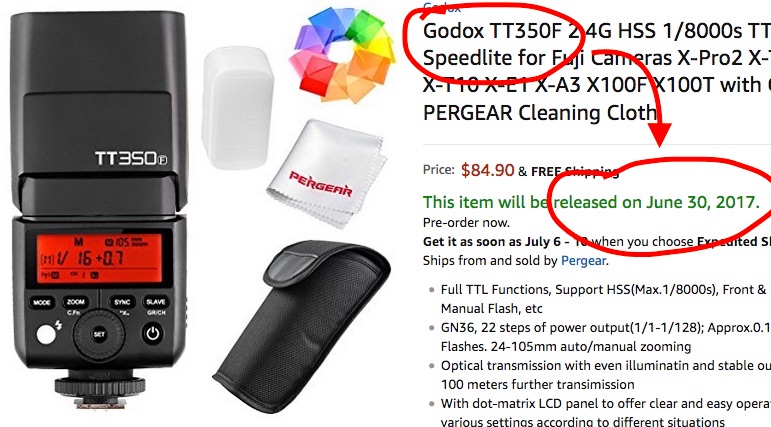 So it turns out, that today it's the "Flash Day" here on FujiRumors.
I already reported earlier today that:
Cactus X-TTL Cross-Brand TTL Firmware Upgrade for FUJIFILM Cameras is Now Available – Read here
Nissin Japan Launches High-Speed Sync Firmware Update for Fujifilm of Di700A and Nissin Air 1 Commander – Read here
But I have yet another Flash News for you… and it's one many of you are waiting for (thanks to the FR-reader for sharing this with FR).
According to two separate AmazonUS sellers, the Godox TT350F for Fujifilm cameras will be available on June 30 (check out Pergear at AmazonUS and ZDMOON at AmazonUS). The Godox/Flashpoint TT350 for Fujifilm is available for pre-order also at Adorama and also AmazonUK.
Also, there will probably be an X2 for Fujifilm instead of X1
For more information, check out the Godox TT350F PDF here.
RECAP: Back in early April we broke the news here on FujiRumors, that Godox is working on major Fujifilm support. Here is their original plan (but there was a delay on it)
Godox Plan:
TT350F Fuji April-May 2017 (Update: delayed to June 30)
If TT350 is good, Move to 685 and V860II.
If all is good move to X1 Fuji and X1 Olympus. (Update: Rumor has it there will be an X2 for Fujifilm)
The same time firmware update for all 2.4G light accept Fuji and Olympus
AD200 60 bulb LED light head May-June 2017.