Finally: Fujifilm NP-W126S Third Party Battery Available!
NP-W126S Vs. NP-W126
With the introduction of the Fujifilm X-T2 back in July 2016, Fujifilm also launched new batteries, the Fujifilm NP-W126S. Same capacity of the old NP-W126, but optimized for better heat dissipation, making them mandatory, if you really want to squeeze the most out of your X-T2 & Co without occuring in any overheating issue.
For the old NP-W126, there are several offerings from third party manufacturers. I personally use PATONA batteries (I think they are WATSON rebranded in USA, but I'm not sure), and I'm very happy with them.
However, not all third party batteries work as well as PATONA/WATSON. As tested, and we reported here, some third party batteries are so bad, that some called them to be a "fraud".
NP-W126S Third Party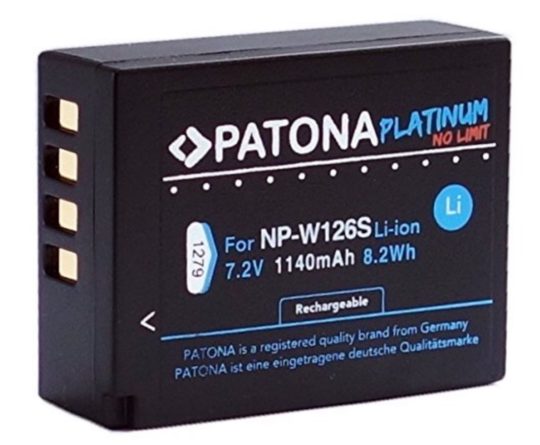 Back to our new NP-W126S batteries.
A FR-reader now spotted the PATONA Platinum NP-W126S batteries at Amazon Germany here.
UPDATE 1: FR-readers told us in the comments about the ecoEfficiency NP-W126S batteries available at AmazonUS (reviews at AmazonUS)
For a fraction of the price of the original NP-W126S batteries, the Patona Platinum battery should allow you to take the most out of your Fujifilm X-T2 & Co without occurring in any overheating issue. Here is the first feedback of the FR-reader:
"Today I received 2 batteries and they are working perfect in my booster grip (without the camera internal battery)"
UPDATE 2: Thanks to our fantastic community, we have more feedback about more NP-W126S third party options.
Unless you really want to sped 3x the money on OEM Fujifilm NP-W126S batteries, third party options are a great alternative… you just have to know which one to buy. And luckily here on FujiRumors, we investigated this questions here, so you can have a bit more feedback about which one to grab ;) .
TESTED: Third Party Fuji Batteries? "Inflated capacity values. Some batteries almost Fraud!"… and the Winner is…?