DELAY: Fuji X-T1 Firmware 4.0 coming June 29! (Trusted Source) – [UDPATE]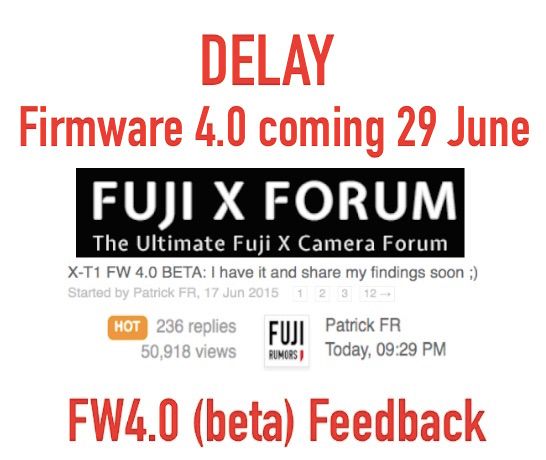 When I first shared the rumor with the date of the Firmware 4.0 release, I knew that it was a risk, since Fuji will probably change it once they get their feedback about bugs and potential improvements.
So here we are again, with another delay… In fact, a trusted source told me that the (amazing) X-T1 Firmware 4.0 has been pushed back for a few more days to June 29! As usual, I expect it to come at about 6:00 AM London Time (midnight in New York).
To see what it is capable of, just check out this thread (including my own tracking tests).
Those who already installed the BETA, remind the following tips when you use the new AF-system for tracking:
1) For AF-tracking with CL or CH (focus between each shot), you have to use Mechanical Shutter (MS) only. It doesn't work with MS+ES (electronic shutter) enabled
2) Turn Off face detection to enable PDAF
3) High Performance Mode ON
UDPATE: by FR-reader Tomáš Tuček: "An editor of the Czech website Digiarena.cz announced the firmware in an article today in the morning, with a link to the official firmware site of Fujifilm. As we wondered where the new firmware is, he wrote in the evening that Fujifilm CZ sent a corrected info with the date of 29th (someone mistook the Mondays). The conversation, in Czech (google translated)"
stay tuned,

Fuji X Forum, Facebook, Google+, RSS-feed and Twitter