Compared: Sigma 16mmF1.4 vs Fujinon XF16mmF1.4, Sigma 30mmF1.4 vs XF33mmF1.4 and Sigma 56mmF1.4 vs XF56mmF1.2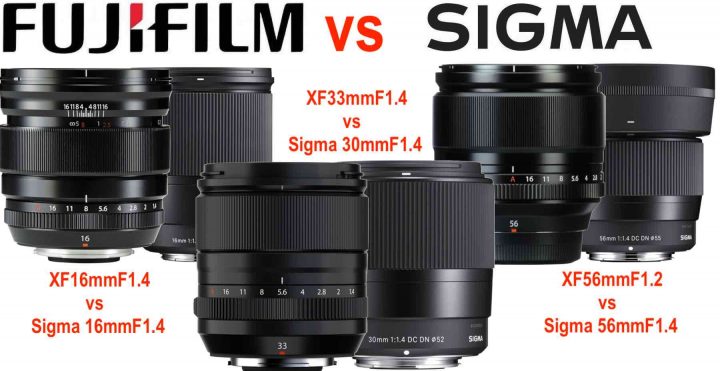 We told you regarding the upcoming X mount Sigma lenses, that we don't believe they will suffer the same faith of the X mount Zeiss Touit Trinity.
The main reason: the Zeiss Touit X lenses were more expensive than their Fujinon XF counterparts but did not offer a better image quality that would justify the price jump.
On the other hand, the Sigma X mount lenses will come in at a sensibly lower price tag than their Fujinon XF competitors and probably at the same time offer a very good image quality, too.
Well, today I'd like to go a bit more in depth and compare also some of the other specs thanks to the very useful B&H Photo comparison tool.
Sigma 16mm f/1.4 DC DN vs Fujinon XF16mm f/1.4 R WR
Sigma 30mm f/1.4 DC DN vs Fujinon XF33mm f/1.4 R LM WR
Sigma 56mm f/1.4 DC DN vs Fujinon XF56mm f/1.2 R
Given the gentle price and probably also the great performance, I believe the Sigma X mount lenses could potentially be an attractive option for many Fuji X shooters.
What I believe could be the biggest "deal breaker" is not that they are too close to existing Fujinon lenses, but that all the Sigma lenses mentioned above do not have an aperture ring, which is something many of us love and consider a key part of the Fuji X shooter experience.
At least for me it's like this, so much so that I sold my original XF27mmF2.8 to get the new XF27mmF2.8 R WR just to have an aperture ring on the lens.
But other than that, I am happy Sigma joins the X mount with whatever lenses they want and I look forward to more in future.
The Fastest Growing Fujifilm Group
Join Our Owners Groups
Join Our Facebook Pages