Camera GP Japan 2020 Awards: Sony Wins Big and Fujifilm GFX100 Grabs the Editors Award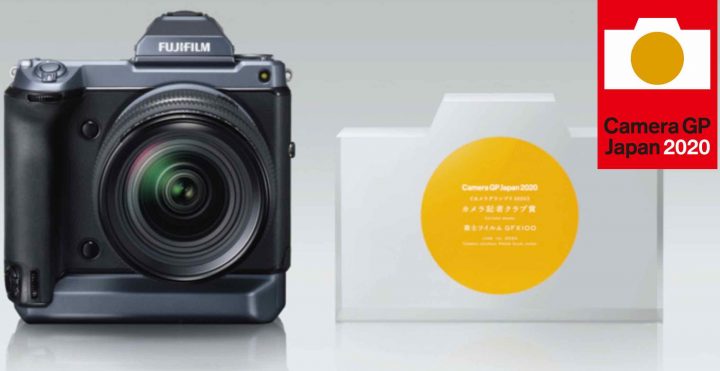 The Fujifilm GFX100 won the Camera GP Japan 2020 Editors Award, said to be the most prestigious camera award in Japan.
Now, I don't know much about this specific award, but overall I wrote an article in the past about the dubious meaningfulness of such awards. But hey, better to win something than not to win.
It is totally subjective, but personally I rejoice much more when other awards are won, for example when photographers using Fujifilm cameras win hands down at the 2020 Word Press Photo awards.
Think at this:
None of the Fujifilm X shooters creaming off all the top awards at the World Press Photo 2020 used the most powerful camera on the market: an X-Pro2, an X100F, an X-H1 and others. But each of these cameras has its character, its peculiar look and feel, build ergonomically around the different needs of different photographers, and hence the tool many chose, to go out and grab award winning images.
Personally I also prefer to use a camera that fits my shooting style, rather than one with the power of a playstation, as I know I will get better results out of the first one.
This is also the reason, why the Fujifilm GFX100 made me salivate on specs level, but personally (as a guy, who does not make a penny out of his photography) I would not buy one, at least not until it looks like this Fujifilm GFX concept.
When I picked up the Fujifilm GFX100 and tested it, it was the first Fujifilm camera I ever hold in my hands, that I had to spend time just to figure out how to operate it.
You know what I mean?
I mean, give me an X-Pro2, X100V or X-T4, and thanks to their intuitive layout and manual controls, I can shoot right away, without any need of a manual or even setting up anything at the menu.
Specs are nice and good. But esthetics, ergonomics, feel and usability are more inspiring for me than mere specs, and therefore help me to keep my passion, fun and inspiration for photography high and fresh.
With that said, here you get it: the list of Camera JP Japan 2020 winners.
The big winner is Sony.
Join FujiRumors on Patreon, Facebook, Instagram, RSS-feed, Youtube, Flipboard and Twitter
Fujifilm Press Release
FUJIFILM GFX 100, a mirrorless digital camera that achieves a different level of image quality with a large format sensor with the world's largest size of 102 million pixels
May 18, 2020
FUJIFILM Corporation (President: Kenji Sukeno) is a mirrorless digital camera "FUJIFILM GFX100" (hereinafter referred to as "FUJIFILM GFX100") that realizes high image quality in a different dimension with the world's highest * 1 102 million large format sensor in the camera grand prix 2020. , "GFX100") has won the "Camera Reporter Club Award".
The Camera Grand Prix is ​​the most prestigious camera award in Japan hosted by the Camera Reporters Club * 2, which is a group of reporters in charge of photography and camera magazines . The "Camera Press Club Award" is given to the products selected by the members of the Camera Press Club that are highly innovative, popular, and popular.
* 1 For consumer mirrorless digital cameras. As of May 18, 2020. Our company investigation.
* 2 Camera press club member magazine (as of May 2020): Asahi camera, cameraman, web cameraman, CAPA, digital camera magazine, digital camera Watch, Japan camera, landscape photo, photocon, phototechnical digital, total 10 media
[Product Features of "GFX100"]
The "GFX100" is a flagship model of the mirrorless digital camera "GFX Series", which is equipped with a large format sensor * 3 with an area about 1.7 times that of a 35mm format and is highly regarded by professional photographers and high amateurs. It realizes high image quality with overwhelming resolution of 120 million pixels and rich gradation and color reproduction. In addition, for the first time in the world as a digital camera equipped with an image sensor that exceeds 35 mm format, we adopted (1) back-illuminated sensor structure with image plane phase difference pixels, (2) camera shake correction mechanism inside the body, and (3) 4K / 30P video recording function. . With these features, not only high-speed and high-precision AF, but also a 5-axis, maximum 5.5-step image stabilization effect are realized, dramatically expanding the area where you can take ultra-high-resolution photos with your hand. In addition, you can use the shallow depth of field to create high-quality images with beautiful bokeh. Together with the lineup of 11 specially designed interchangeable lenses for the "GFX series", you can enjoy ultra-high image quality shooting in a wide range from wide-angle to telephoto.
The "GFX100" is the highest performance digital camera in the history of FUJIFILM that responds to the needs of all users, regardless of whether it is photography or video production.
* 3 An image sensor with a diagonal length of 55 mm (horizontal 43.8 mm x vertical 32.9 mm), which is about 1.7 times the area of ​​35 mm format.
Among the "GFX system" that employs a large sensor measuring 43.8 mm in width and 32.9 mm in height, it is a mirrorless digital camera that achieves an ultra-high resolution of 102 million pixels and a compact design that allows flexible shooting. Not only high pixels, but also a high-speed, high-precision AF system including face / eye AF, and a 5-axis, 5.5-step maximum in-body image stabilization mechanism. Despite being multifunctional, it has the same size and comfortable operability as a 35mm digital camera, so you can maximize the performance of 102 million pixels even when shooting handheld. Also, a large dynamic range of 14 stops has been realized with a large sensor and advanced image processing technology. As it has a dust-proof, drip-proof and low-temperature resistant structure, it can be used not only for studio shooting but also for outdoor shooting. It can be said that it is a camera that makes the ultra-high pixel of 102 million familiar.