[APRIL FOOLS] BREAKING NEWS :: Fujifilm X-T2, Fujifilm X-T2 PRO and Fujifilm X-MF1 officially registered in China!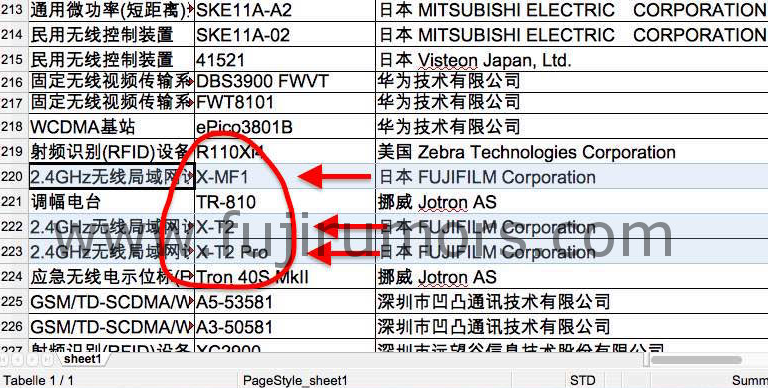 _ _ _
Sorry guys, but for the first & only time in my life, I made up a rumor… April Fools Day :-)

_ _ _
[
UPDATE
] Specs of X-T2 Pro Leaked at PCHstore (
French
/
google translated
):
FF24x36
11fps
4K
Sony sensor 42,5MP with in body stabilisation
3 new lenses at launch : 24-70f/2.8; 50mm f/1.4 and 85mm f/1.4
New EVF 4MP with a secret new technology
– – –
Original Post
Three X-series cameras have been registered at the Chinese radio wave authentication institution (where all WiFi capable devices have to be registered).
The fact that these cameras have now been registered, means that the announcement (not release) could be imminitent (spring/early summer)
One big surprise is the X-T2 Pro. It could indicate that Fuji will release 2 different X-T2 bodies. Maybe the X-T2 Pro could be slightly larger and fit a bigger/better battery. Also the heat dissipation would be easier on a larger body, eliminating overheating issues while shooting 4K video.
Do you think it's a smart move to offer two different bodies?
The other huge surprised is the X-MF1, which really sounds like the Medium Format camera. I wasn't expecting it to come so fast. But competitors are not sleeping and Fujifilm might have decided to step on the gas.
NOTE: The original EXCEL file has been removed, but the FR-reader, who passed me the link (thanks) saved it and send it to me. For now I'll share a screenshot. I'll share the full File on my dropbox next.
stay tuned,

Fuji X Forum, Facebook, RSS-feed and Twitter