Announcing the First Dedicated Fujifilm GFX Owners Workshops!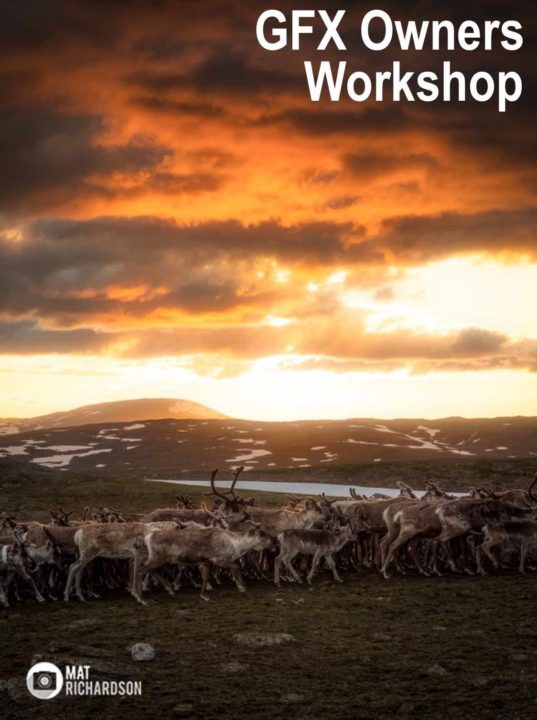 GFX Owners Workshop in Swedish Lapland
Yes, it's happening… we are about to reach the 15,000 Fujifilm GFX facebook members, a group full of talented photographers, Fujifilm X-photographers, Fujifilm managers, and even stars like musician and artist Seal Samuel (a long time Leica shooter, who now bought the Fujifilm GFX).
Mat Richardson is one of the talented group members, a professional photographer for over 20 years, and of course a GFX shooter now. He also has a long experience with carrying out workshops in the deep North of Europe.
Well, Mat decided to run a workshop in the Swedish Lapland, dedicated to Fujifilm GFX owners.
And those of you, who are both,
part of the Fujifilm GFX facebook group
owners of a Fujifilm GFX
… will also get a significant €400 discount compared to the normal workshop rate.
Sounds good? Then check out the main details below and for any question contact mjr@matrichardson.com and check out Mat's workshop page here.
Details
Swedish Lapland is an amazing location, wild landscapes, incredible rivers and waterfalls, 24hr daylight in the summer and extreme temperatures in the winter, plus lots of snow and ice and even Northern Lights!
We run workshops here because this is where we live and work and we offer the opportunity for workshop participants to experience everything the area has to offer.
We do things a little differently here, as professional commercial photographers, we have a fully equipped studio and print setup on site, this gives us a unique environment for people to learn about post processing and printing after a day's shoot as well as experience portrait and product photography in a working studio setup with a large strobe lighting kit.
On top of all this, we are Fujifilm GFX users, this means we have a professional view of how these cameras work in a wide variety of situations allowing us to share our knowledge and help you get the most from your camera.
We offer 1 to 1 and small group workshops up to a maximum of 4 people. Accommodation is on site and we take care of everything from picking you up at the main airport 1 hour away, to meals and training. All workshops are flexible and can be tailored to your needs from beginners to experienced professionals.
Workshops are run regularly and we have put aside a number of workshops exclusively for GFX owners, allowing us to concentrate on the camera and it's incredible abilities with like minded others.
Workshop dates for GFX owners in 2018 are ..
Winter workshop for the brave! Extreme weather and incredible environment for photography, coincides with the famous Jokkmokk winter market with the opportunity to see the indigenous Sami people and their reindeer.
January 30th to February the 3rd 2018
Spring workshop to experience the emerging of the landscape from the deep winter, an incredible time of year as the sun returns
Monday 7th May to Friday 11th May 2018
Autumn workshop as the days start to get shorter, the birch trees turn an amazing golden colour and the days are crisp and cold.
Monday 24th September to Friday 28th September 2018
All three of these weeks are exclusive to GFX owners and are discounted from the normal workshop rate of 2,300 Euros to 1,900 Euros per person.
Prices exclude flights to Lulea, Sweden, personal snacks and drinks as well as alcoholic drinks.
For full details contact Mat Richardson, mjr@matrichardson.com
More details here http://www.matrichardson.com/workshops