Limited number of X100S in stock, Lightroom 5.2 (with X-A1 support) and C1 software update available!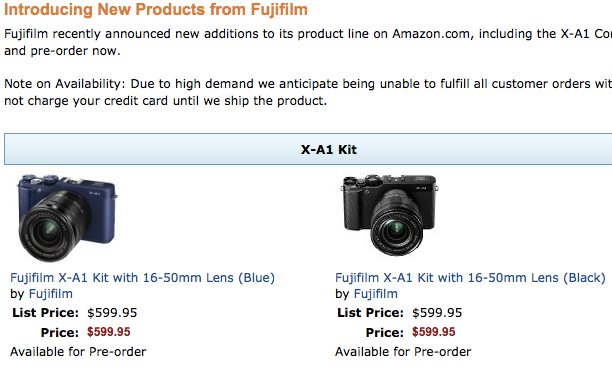 X-A1 – PRE-ORDERS – XC 50-230

X-A1 with XC 16-50 ($599): AmazonUS black – blue /BHphoto black – blue / Adorama black – blue / Pictureline black – blue
XC 50-230 ($399): AmazonUS black – silver / BHphoto black – silver / Adorama black – silver
What a day! A lot of things going on today. First of all the announcement of the X-A1 and XC 16-50. You should read the X-pert corner special (with RAW samples) to know much more about it. Then DPreview assigned the Golden Award to the X-M1 and at the same time the price for the X-M1 body dropped to $638 at AmazonUS here. Adorama has a good offer on Adobe Photoshop Elements 11 & Premiere Elements 11 Bundle. You can read it all in this post here.
Now Adobe and Phase One updated its RAW conversion software… and X100S hunters: there are ONLY 4 X100S in stock at ebayUS here.
RAW converter updates
Lightroom 5.2 is out, and it supports already the brand new Fujifilm X-A1! Click here to download it.
Also Capture one updated its software today. To download Capture One 7.1.4 click here.
Fuji X100S in stock now!
There are only 4 X100S available at top rated reseller kenmorecamera here… I don't have to tell you how quickly it will run out of stock again (when I started to write this post there where 6 availabe!)… so hurry if it is the camera you've waited for!
cheers