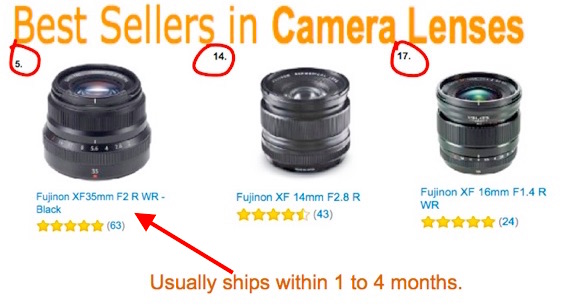 XF35mmF2 WR: best seller at AmazonUS… and out of Stock!
_ _ _
Well, for just $299, it's no surprise that the XF35mmF2 WR sells like hot cakes! Since the launch of the amazing X-deals yesterday (or should I say X-steals?), the lens (black version) has been massively sold by all retailers and is now already out of stock!
If you are interested in the XF35mmF2 WR, you better place your order now… and avoid biblical waiting times, like it happened back in 2014, when the XF27mm was so cheap that even EU-residents ordered it from USA and after that was out of stock for several months!
XF 35mmF2 (save $100): BHphoto / AmazonUS / FocusCamera / Adorama
Also selling very well, according to the AmazonUS ranking, the XF14mm ($400 off) and the XF16mm ($300 off)
Lenses
XF 14mm (save $400): BHphoto / AmazonUS / FocusCamera / Adorama / Pictureline
XF 16mm (save $300): BHphoto / AmazonUS / Adorama
XF 18mm (save $150): BHphoto / AmazonUS / FocusCamera / Adorama / Pictureline
XF 23mm (save $200): BHphoto / AmazonUS / FocusCamera / Adorama / Pictureline
XF 27mm (save $150): BHphoto / AmazonUS / FocusCamera / Adorama / Pictureline
XF 35mmF1.4 (save $150): BHphoto / AmazonUS / FocusCamera / Adorama / Pictureline
XF 35mmF2 (save $100): BHphoto / AmazonUS / FocusCamera / Adorama
XF 56mmF1.2 APD (save $400): BHphoto / AmazonUS / FocusCamera / Adorama / Pictureline
XF 56mmF1.2 (save $200): BHphoto / AmazonUS / FocusCamera / Adorama / Pictureline
XF 60mm (save $200): BHphoto / AmazonUS / FocusCamera / Adorama / Pictureline
XF 90mm (save $200): BHphoto / AmazonUS / FocusCamera / Adorama
XF 10-24mm (save $200): BHphoto / AmazonUS / FocusCamera / Adorama / Pictureline
XF 16-55mm (save $200): BHphoto / AmazonUS / FocusCamera / Adorama / Pictureline
XF 50-140mm (save $200): BHphoto / AmazonUS / FocusCamera / Adorama
XF 50-140mmm + 1.4xTC (save $349): BHphoto / AmazonUS
XF 18-135mm (save $200): BHphoto / AmazonUS / FocusCamera / Adorama / Pictureline
XF 100-400mm + 1.4xTC (save $349): BHphoto / AmazonUS / Adorama
XF 55-200mm (save $200): BHphoto / AmazonUS / FocusCamera / Adorama / Pictureline
XC 50-230mm (save $200): BHphoto / AmazonUS / FocusCamera / Adorama
XC 50-230mm verII (save $200): BHphoto / AmazonUS / FocusCamera / Adorama
Camera

Fuji X-T1 Black or Graphite Silver (save $300) + Free VG-XT1*: BHphoto / AmazonUS / FocusCamera / Adorama
Fuji X-T1 + XF18-55 (save $300) + Free VG-XT1*: BHphoto / AmazonUS / FocusCamera / Adorama
Fuji X-T1 + XF18-135 (save $300) + Free VG-XT1*: BHphoto / AmazonUS / FocusCamera / Adorama
*Free X-T1 Vertical Hand Grip while supplies last
Fuji X-T10 body (save $200): BHphoto / AmazonUS / FocusCamera / Adorama
Fuji X-T10 – XF18-55 (save $200): BHphoto / AmazonUS / FocusCamera / Adorama
Fuji X-T10 – XC16-50 (save $200): BHphoto / AmazonUS / FocusCamera / Adorama
Fuji X-T10 + double kit (save $200): BHphoto / Adorama
Fuji X100T (save $200): BHphoto / AmazonUS / Adorama / FocusCamera / Pictureline