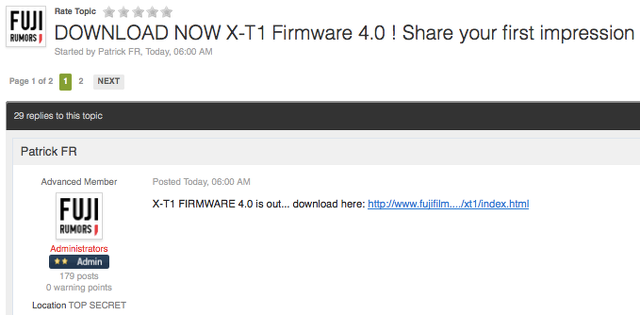 Finally, the X-T1 Firmware 4.0 is out and ready to be downloaded here.
X-shooters are now testing their new X-T1 and share their findings on the Fuji X Forum. Here are some of the threads dedicated to the new Firmware
- X-T1 Firmware 4.0 ! First Reviews of the FXF community… including VIDEO (in Italian) comparing XF 35mm old Firmware Vs. New Firmware 4.0 shared by FXF member Wabisabiphotography – From minute 0:40 to 1:40 AF speed with old Firmware. Starting from minute 4:10 with the New Firmware
– FW 4.0 Continuous focus test with horribly backlit subject
– New AF zones explained – with link to Fuji's Special site dedicated to the new AF-system
New Fuji X-T1  FW 4 Features Guide (PDF)
Also Rico continues his FW 4 testings. This time with the XF 90mm (specs&price). 100% hit rate using CDAF only! Impressive… See his test on Flickr.
Fujifilm X-T1 Firmware V4 review at prophotonut / X-T1 Firmware 4.0 (BETA): AF-C + Zone mode = WOW!! at fujiboys / X-T1 Autofocus Test on Puffin Island at macleancomms / A week with the FujiFilm X-T10 and Firmware 4.0 – A Significant Evolution in the X-Series at caveiraphotography /
A few tips to make the best our of the new AF tracking system:
- Enable Mechanical Shutter (MS) only. The camera won't focus between each shot (CL or CH) if MS+ES (electronic shutter) is enabled.
– Turn Off face detection to enable PDAF
– High Performance Mode ON