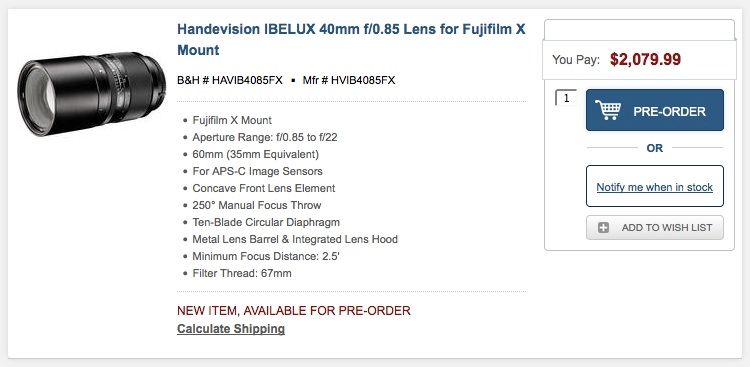 Pre-order at BHphoto, AmazonUS and IN STOCK at Adorama.
It's the fastest lens you can buy for your X-series camera, and at the same time most expensive gear for Fujifilm X-cameras: the IBELUX f/0.85.
Now, over at the Japanese site dc.watch (translation) you can read the first impressions of this lens (mounted on a Fujifilm X-T1) and see some samples and crops. From the (cryptic google translated) conclusions:
"In terms of earning the amount of blurring, image sensors have an advantage as large. This is a translation come led to the needs of the full-size mirror-less, but if IBELUX 40mm F0.85, can enjoy a large blurring in Micro Four Thirds machine and APS-C machine.
This time, it was trial in combination with X-T1 of the APS-C machine, but it was feeling of being with a large aperture standard lens to full size machine while you are taking. Can you blurred a lot there is no need to compromise on the subject in order to earn a blur, simply by opening the aperture on the spot.
Because it goes to the sharp prudently in F2.8 or later, there is no sensitive part that is common among habit ball, it is easy to use as a prime lens. How to use a snap lens basis because there is a strict weight, but will someone to be a good partner to work making. "