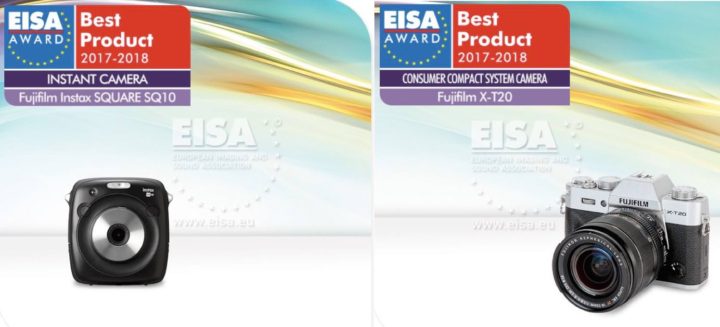 The EISA AWARDS 2017/2018 are out.
The Fujifilm X-T20 has been declared the best consumer CSC and the Instax Square SQ10 is the best instant camera of the year. The prize for the overall best camera goes to the Sony A9.
I know what you guys think, and I tend to agree: the EISA award is here to make every company happy.
But at least, compared to the past editions, EISA dropped some non-sense categories like the "Best Connected Camera" and they don't make anymore the ridiculous distinction between "professional", "advanced" and "premium" cameras.
It's a good thing that now there are less categories, so EISA is definitely following the right direction… but there should be even less categories, to give even more prestige to the winners.
One thing I don't get is why the Sony A6500 has been declared the best "prosumer" CSC and the X-T20 the best "consumer" CSC. Is the X-T20 less Pro than the A6500?
Another thing to notice: it's the first time that no Fujinon lens wins the award.
Also, the Fujifilm GFX system has been completely ignored by EISA. So the only camera (the GFX 50s) that beats all other EISA awards winners in terms of image quality and the exquisite Fujinon glass like the GF 63, GF 110, GF 120, GF 23 and GF32-64 don't get awarded.
Fujifilm X-T20: USA: BHphoto, Adorama, AmazonUS EU: AmazonDE, AmazonUK, WexUK, PCH AUS: CameraPro
Fujifilm Instax Square SQ10: USA BHphoto, Adorama, AmazonUS Europe: WexUK, PCHstore
Anyway, here is what EISA writes about the two Fujifilm products that won the award this year (for all photography awards click here).
Fujifilm X-T20 (via EISA here):
The Fujifilm X-T20 is a compact, mirrorless consumer camera that produces sharp, clean images and 4K video quality at a competitive price. At the heart of the camera is its 24.3 million pixel X-Trans CMOS III sensor and X-Processor Pro, which are jointly responsible for the extraordinary image quality. Despite its comparatively affordable cost the X-T20 uses the same high quality sensor and processor as the highly regarded X-T2 and X-Pro2. The touchscreen operation and custom AF-C setting are also big pluses. Finally the X-T20's sharp and highly detailed 4K video recording makes this camera a great all-rounder.
Fujifilm Instax Square SQ10 (via EISA here):
The Instax SQUARE SQ10 is the first hybrid instant camera that lets you take and print square photos (62x62mm). You can brighten, darken or add vignettes to your images or choose from 10 creative filters to apply, before you decide to print them. The bright LCD viewfinder makes it easy to create and edit your pictures, which are recorded in the internal memory or on a microSD card, so you can share them with your friends and family.