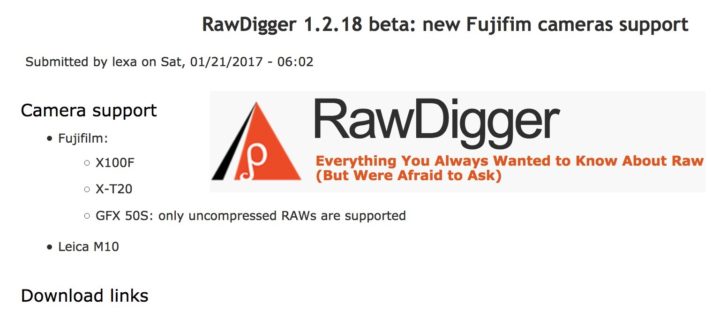 LibRaw GFX, X100F, X-T20 Support

LibRaw contacte me and told me that FastRawViewer 1.3.8 Release Candidate and RawDigger 1.2.18 Beta now support Raw files from X100F X-T20 GFX 50S. Note that compressed RAW for GFX 50S is not supported yet.
They told me that they would be very much interested in any feedback from FujiRumors readers.
Download GFX, X100F and X-T20 RAW Files
… first feedback about XF 50mm F2
So now you just need the RAW files. They can be found at photographyblog. Go to the X-T20 sample page, X100F samples page and GFX sample page (file size over 100MB) then scroll down to the RAW images.
FR-reader Bjoern checked out the recent RAW samples of the X-T20 (with 50mmF2) and X100F and here is his feedback
"I have taken a quick look at the X-T20 RAW samples using Libraw, which does not apply any automatic corrections during development (Like Vignetting and distortion compensation) and it seems like there is no noticeable vignetting and distortion even at f/2! This is a big difference to the 35mm f/2, whose images look like shot with a pinhole camera when they are uncorrected and are distorted really badly, unfortunately (see photozone)."
Fujifilm GFX: USA BHphoto – Win $3,000 by pre-ordering at BH via FR*, Adorama, AmazonUS EU: AmazonDE, AmazonUK, WexUK, ParkCamerasUK, PCH AUS: CameraPro
*Pre-order the GFX at BHphoto using the FujiRumors B&H link to enter the contest. Price: $3,000. Sweepstake Overview & Rules can be found here. Full Terms & Conditions here.
Fujifilm X-T20: USA BHphoto, Adorama, AmazonUS EU: AmazonDE, AmazonUK, WexUK, ParkCamerasUK, PCHstore AUS: CameraPro
Fujifilm X100F: USA BHphoto, Adorama, AmazonUS EU: AmazonDE, AmazonUK, WexUK, ParkCamerasUK, PCHstore AUS: CameraPro
Fujifilm XF50mmF2 WR: USA BHphoto, Adorama, AmazonUS EU: AmazonDE, AmazonUK, WexUK, ParkCamerasUK, PCHstore AUS: CameraPro