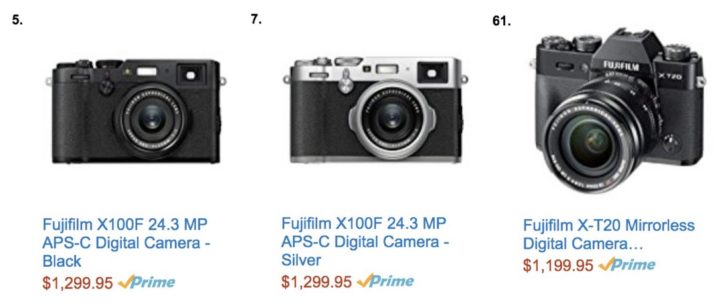 So which one of the new Fuji gear had the best sales start today?
According to the AmazonUS overall digital camera ranking, it's the Fujifilm X100F (currently 5th and 7th). Far behind there is the black X-T20 kit (63th). Of course it's difficult to compare the sales between X100F and X-T20, since the latter one is sold in at least 6 different combinations, as opposed to the 2 options (silver/grey) for the X100F. If we take a look only at the mirrorless camera ranking, the X-T20 is 9th (black body).
A nice start I'd say. :)
Live Blogging here – Links to all First Looks
Fujifilm GFX: BHphoto – Win $3,000 by pre-ordering at BH via FR*, Adorama, AmazonUS
Fujinon GF63mmF2.8: BHphoto, Adorama, AmazonUS
Fujinon GF32-64mmF4: BHphoto, Adorama, AmazonUS
Fujinon GF120mmF4 Macro: BHphoto, Adorama, AmazonUS
*Pre-order the GFX at BHphoto using the FujiRumors B&H link to enter the contest. Price: $3,000. Sweepstake Overview & Rules can be found here. Full Terms & Conditions here.
Fujifilm X-T20: BHphoto, Adorama, AmazonUS
Fujifilm X100F: BHphoto, Adorama, AmazonUS
Fujifilm XF50mmF2 WR: BHphoto, Adorama, AmazonUS