[UPDATE] Fuji X Deals Worldwide: USA: X-T1 deal starts Sunday (save $200) + AUSTRALIA: $200 Cashback + UK: X-T1 £100 off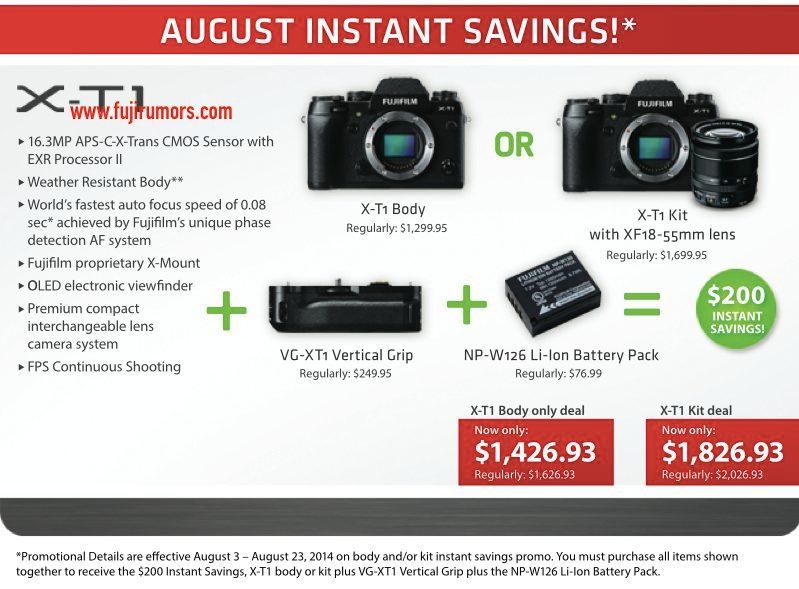 USA: X-T1 DEAL (and more)
[UPDATE] There will be a X-T1 bundle deal that will start on August 3 and end on August 23. Buy a X-T1 (body or kit), a Vertical Battery Grip ($250) and spare Battery ($49) for free and you'll save $200 on this bundle. [sorry, there was a misunderstanding with the source, which therefore kindly shared the Fuji document with us to make it clearer]
There will be also a $300 price drop on the X-PRO1, X-E1, X-A1 and X-M1 + lens.
SUPPORT FR: If it's the deal you've waited for, then please consider to purchase your X-T1 using one of the shoplinks I'll share on this blog as soon as the deals start. The price of the X-T1 bundle will remain exactly the same for you, but a small commission is valued back to FR. So, feel free to help me to keep this X-blog alive and allow me to continue my daily work here on Fujirumors. Thanks, Patrick.
AUSTRALIA: X-E2 / X-PRO1 $ 200 Cashback


The Australian store camerapro has also a great deal: $200 Cashback on the X-E2 and and on the X-PRO1. Check it out here.
UK: X-T1 DEAL (and more)
It started today in the UK: X-T1 and X-E2 cashback deal (save £100 – £200). And if you purchase any two XF lenses, you'll get £200 cashback. This deal ends September 30. You have to buy it at authorized deals like Jessops. The full retailers list can be seen here.
In the UK, if you bought the X-T1, you also got a voucher for a £250 discount on the XF 18-135.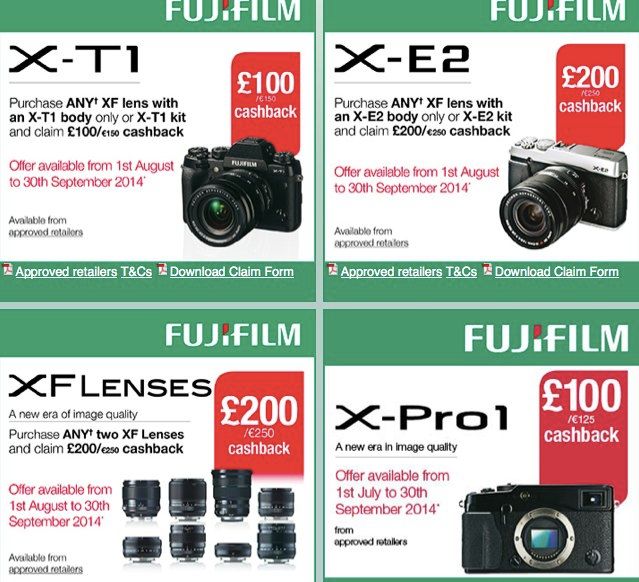 GERMANY: €100 Cashback + double Zoom & X-M1 offer

There's currently a 100 EUR Fuji Cashback Deal for some of the Fuji lenses in Germany at BesierOehling.de. There is also a double zoom + X-M1 kit offer for €499 for example at fotokoch.de.