X Series Origins: Secret Development Story of Fujifilm X series to Celebrate 10th Anniversary – Fujifilm X Lab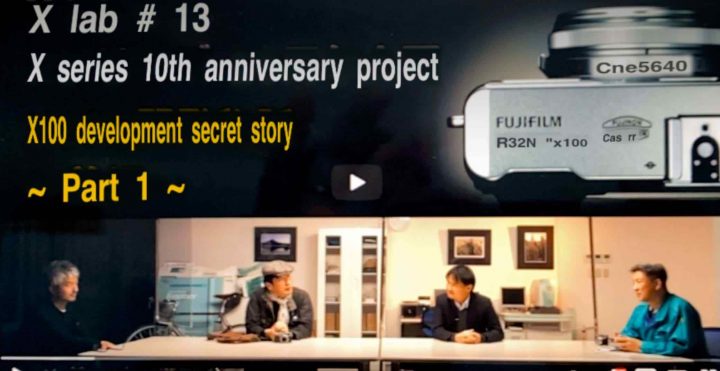 The Fujifilm X series turned 10 years old in September 2020.
Now, in its latest Fujifilm X Lab episode, Fujifilm managers and engineers unveil what they call the "secret development story" of the the Fujifilm X series and how it all started with the original Fujifilm X100.
Once again it's in Japanese, and this time there is not even the automatic google translation tool activated to help us.
However, I contacted a Japanese speaking FR-reader, who was extremely kind and made a summary for the entire FR community. I know these things take time, so huge thanks to Hiko for the help.
Summary
Topic of this session is the 10-year anniversary of X100 series.
During development of X100, Fuji wanted to create a digital camera that professionals would enjoy using
At the time (around 2009), compact digital cameras could not produce the quality that compact film cameras could.
Digital cameras were thought of as compact and cheap.
Idea for X100 was born through desire to create a camera that was more upscale — a "brand item".
Various feedback suggested this to be a camera that made the user believe it would take good photos.
There were larger ILCs that could take good photos, but Fuji decided to go the compact route.
Wanted to make a camera that they could brag about.
Wanted people to see beyond MP numbers.
Wanted to create a camera that you wanted to have with you every day.
Digital cameras were simply seen as electronics at the time.
Wanted it to be seen as a precision machine/device.
Tried many different form factors, but ultimately landed on the classic form factor.
Wanted a camera that had the analog flow for setting the exposure and taking the picture.
Design of X100 was product of materializing everyone's "desire to use".
At the time, compact digital cameras got rid of viewfinders, taking pictures with the rear LCD.
Photographers expressed wanting a VF, but there were issues with EVFs being low resolution and optical finders having parallax error.
Ultimately, they were able to pack a 1.44 million-dot EVF and develop a one-touch optical/EVF switching mechanism, which addressed these hurdles.
I particularly like it when Fujifilm says they wanted to create a camera that makes us "desire to use it".
Now, I briefly touched on my photographic gear journey in this article here. From the one experience that convinced me to get rid of my DSLR to my mirrorless journey with Panasonic and Olympus. And to be clear, all those systems offered very nice cameras.
But it's only when I stumbled on the Fujifilm X series, that my desire to take pictures was elevated to a point, where it was not only the result that matter, but also the process of taking the picture. Damn it, even just looking at those Fuji camera was and still is a pleasure!
It's an emotional connection that might be irrational, but nevertheless matters to me.
A connection that mattered also for one of the greatest journalists of all time, Tiziano Terzani, when he was using his Leica. In his wonderful book (which they made also a movie of) "The End is my Beginning", he wrote:
"My life changed on the 30th of April 1975 [Note: last day of the Vietnam War], because on that day – when Americans flew from the roofs of Saigon – a skilled Vietnamese thief was able to steal a Leica M3 of an American. I met him at the market of Saigon a few days later and bought that camera. Wonderful. Simple. For 100 Dollar! It became the camera of my life. […]

The nice thing of that camera is, that it is very easy to load the film, that's very important. […] You keep it around your neck, turn, open, insert film, close and – trum-pum! It's ready to use. Easy. And once you selected shutter speed, aperture, black & white, 400 ASA, you take the picture. You simply cannot do anything wrong!

And then there was an almost erotic aspect, I mean, you put this camera for example at 1/125 and when you take the picture it makes a "cloc-cloc" that is such a joy to hear!"
Search for the system that is fun to use for you and enjoy the process of taking images just as much as the images themselves.
The Fastest Growing Fujifilm Group
Follow FujiRumors on Patreon, Facebook, Instagram, RSS-feed, Youtube, Flipboard and Twitter
Join Our Owners Groups
Join Our Facebook Pages