WILD RUMORS :: Fujifilm 2015 :: Dual Mount Product, New Pancake Lens, X-PRO2, X-E3 (2016) and more (source dchome)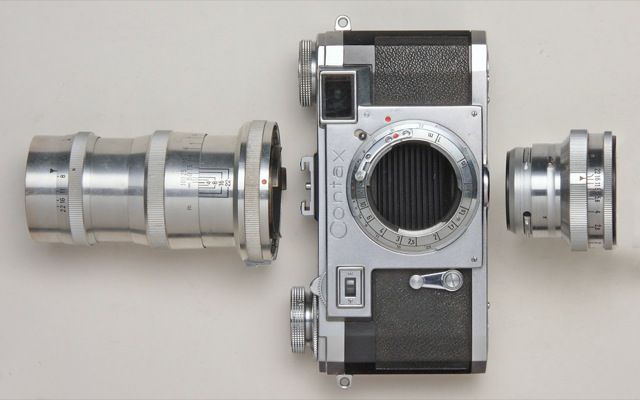 The Contax Hybrid Mount Camera with a combination of two bayonets (courtesy of fotocommunity)
_ _ _
[UDPATE: there is an update to this post here, with additional rumors shared by joofie]
The wild rumors at dchome
First off: these rumors do NOT come from FR-sources, and I publish them 1:1 as they surfaced on the web. I say this because I'd love to prevent the usual comments that rumors of my sources are completely unreliable. Sure, in 2014 I've shared 14 wrong rumors… however, 14 wrong out of 85 verifiable rumors (this means 71 rumors were correct – 83.5% hit rate). So you see, I try to be as accurate as possible.
However, I opened this blog because I love the X-Series, but also because I like to speculate about rumors. So I think we can sometimes also discuss some rumors that sound a bit weird.
That being said…. let's start:
The information was shared by a Forum Member called joofei at dchome (translated by a non native English speaking FR-reader – thanks). During the discussion on the forum, joofei continued to share more details. I've added them in the list (Nr.13-14) (I relied on google translator. If there is any Chinese reader who can make a more accurate translation, then just drop it in the comments)
1) X-Pro2 will not be launched on first quarter of 2015, but there are 2 SPEC… [FUJIRUMORS: It's probably correct that the X-PRO2 won't come in the first quarter. I'm not sure what "but there are 2 SPEC" means. Probably 2 versions ("species").]
2) XF20 F2.8 (equal = 30MM / pancake) or XF18 F2.8(equal = 27MM / pancake), will be launching soon.
3) XF35 F1.4(II) , better IQ & bokeh & focus speed a bit faster than XF23, price over HK$ 4000 [FUJIRUMORS: there were rumors in 2014 about it. Apparently Fuji tested an APD version of it, but then dismissed it – source Fuji Manager]
4) OCT-DEC will be a big cannon show up (4XX) (*Forum ppl believe is 140 -400mm)
5) DUAL MOUNT PRODUCT may launch in mid of the year [FUJIRUMORS: My comment about this down below]
6) New phase auto focus system (can compete with DSLR), will come out in X-Mount. [FUJIRUMORS: why not? Sony's bestseller, the A6000, shows the way]
7) High Speed Pro Flash light, synchronize rate improve to pro standard [FUJIRUMORS: New flash coming in spring]
8) Body will back light prevention setting system (2015 mid / year-end)
9) New fix lens camera will launching before March (" X " 1 – 2 model) [FUJIRUMORS: He could mean the XQ2, since it was shared on the dchome forum before the official announcement of the XQ2]
10) X-M1 successor already develop, just do not know will launch or not
11) Fuji Japan still analyses a program that user by pay some amount of $$ and can upgrade the part (item (5)- (8) ). They hope user can use the model for longer time without refresh model too fast.
12) XF16 1.4 – Hot summer launching
13) google translated: "X-E3 has a row you wait for" [FUJIRUMORS: sounds like Fuji is debating (has a row) regarding the X-E2 successor, which eventually is expected to come in 2016, since, according to joofei… (see Nr.14)
14) X-E3 => 2016
A lot of stuff. For now I'll just make a short comment about that "dual mount product". Sounds like a camera that has the ability to attach current X-mount lenses but also lenses with a different mount… a sort of hybrid mount camera. Something like the mount of the Contax rangefinder made from the 1930ies to the 50ies, which was "in fact the combination of two bayonets." (source Camerapedia)
Ok, now I have to fire off some emails. If I can debunk (or maybe confirm) any of these rumors, I'll post an updated here on FujiRumors
stay tuned,

facebook, google+, RSS-feed and twitter
NEW X-DEALS
X-SERIES CAMERAS
X-T1 + 18-135 WR (save $200 – price $1699): BHphoto / AmazonUS / Adorama /
X-T1 + 18-55 (save $100 – price $1599): BHphoto / AmazonUS / Adorama /
X-T1 Black Body (save $100 – price $1199): BHphoto / AmazonUS / Adorama /
X-T1 Graphite Body (save $100 – price $1399): BHphoto / AmazonUS / Adorama /
X-E2 Body (save $100 –  price $699): BHphoto / AmazonUS / Adorama /
X-E2 + 18-55 (save $100 – price $999): BHphoto / AmazonUS / Adorama /
X30 (save $100 – price $499): BHphoto / AmazonUS / Adorama /
XQ1 (save $100 – price $299): BHphoto / AmazonUS / Adorama
XF LENSES
XF 18-135mm (save $200 –  price $699): BHphoto / AmazonUS / Adorama /
XF 18mm (save $200 – price $399):  BHphoto / AmazonUS / Adorama /
XF 60mm (save $200 – price $449): BHphoto / AmazonUS / Adorama /
XF 23mm (save $150 –  price $749): BHphoto / AmazonUS / Adorama /
XF 56mm (save $150 – price $849): BHphoto / AmazonUS / Adorama /
XF 14mm (save $150 – price $749): BHphoto / AmazonUS / Adorama /
XF 10-24mm (save $150 – price $849): BHphoto / AmazonUS / Adorama /
XF 27mm (save $150 – price $299): BHphoto / AmazonUS / Adorama /
XF 35mm (save $100 – price $499): BHphoto / AmazonUS / Adorama /
XF 18-55mm (save $100 – price $599): BHphoto / AmazonUS / Adorama /
XF 55-200mm (save $100 – price $599): BHphoto / AmazonUS / Adorama /