We Are Going to Have Fun! :: Join FR, the Largest Fuji X Series Community, and Don't Miss the Whirlwind of Rumors!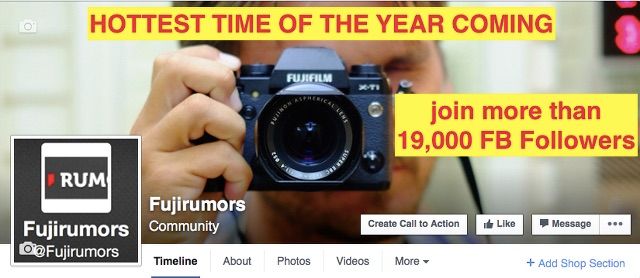 Janaury 15 is approaching… and I tell you, I'm working hard to make it the best rumor time we ever had on FujiRumors since I started this blog, 4 years ago, with my very first post, which btw. had an incredible web-response of zero (0) retweets, zero (0) likes, three (3) comments and maybe ten (10) views ;).
But things have slightly changed since that first post, and, beyond my expectations and my merits, FujiRumors has grown to the by far Largest Fujifilm X-series online Community (and you know this is why Fujifilm really reads this blog and your opinions).
Well, if you want to be part of this community and be quickly notified as soon as the rumors go online, it's best to follow FujiRumors also on Facebook, RSS-feed, Twitter or/and subscribe the Fujfilm X-Pro2 thread to get instant notification!
That said… lean back and enjoy the rumors… I will give all my best until January 15 and postpone my burn-out to January 16 ;)