Wake up, it's real! X-T1 announced… LIVE BLOGGING, press-realease, pre-orders and more!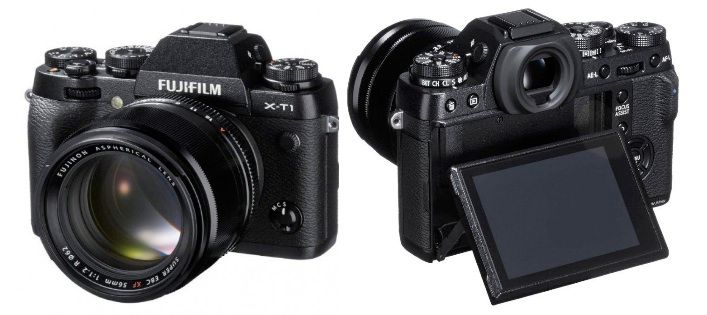 refresh this page for the latest updates

Pre-orders (and support FR)
After several months of restless work to make of the X-T1 one of the most leaked cameras ever, today you can support my work here on Fujirumors. If you choose to pre-order it using one of the X-T1 shoplinks (AmazonUS, Bhphoto, Adorama, wexDE, wexUK & Co) in this post, FR will get a small commission on it. It won't cost you a single penny extra on your camera. Thanks in advance to those who decide to support this blog… you will allow me to spread many exciting rumors also in 2014… I'm already investigating for you ;-).
PRE-ORDERS
X-T1 body only ($1,299): NORTH AMERICA: AmazonUS / BHphoto / Adorama / Pictureline / EUROPE: wexDE / wexUK / PCHstore /
X-T1 with 18-55 ($1,699): NORTH AMERICA: AmazonUS / BHphoto / Adorama / Pictureline / EUROPE: wexDE / wexUK / PCHstore /
Press-release
Fujifilm Global site / dedicated FujifilmUK page /
First looks and samples
Best on the web, Rico's first look with plenty of samples
X-pert corner first look (samples and first look) / FUJFILM official samples / look through the EVF
Hands on: quesabesde hands on (translation) / amateurphotographer first look / dslmagazin hands on Spanish (translation) / German photoscala / ephotozine hands on / dpreview first look / pocket-lint first look / techradar firs look / jgranseth hands on review / photographyblog / f-sunny / German presentation at systemkamera-forum / X-E2, X-PRO1, X-T1 specs comparison fujivsfuji / fujifilmblog / digitalcamerareview / dc.watch google translated / OMD EM-1 vs X-T1 size/weight comparison at camerasize / digitalcameraworld / test-opinion at cyberphoto in Swedish / trustedreviews / danbaileyphoto / mirrorlessons /
Videos: first look whatdigitalcamera / Fujifilm X-T1 & Fujinon XF 10-24 F4 Javier González / Focus Numérique (French) / Italian presentation / dkameratv preview German / parkcameras X-T1 presentation / digiralcameraworld / German Chip.de /
Fuji Guys:
WR = weather resistant lenses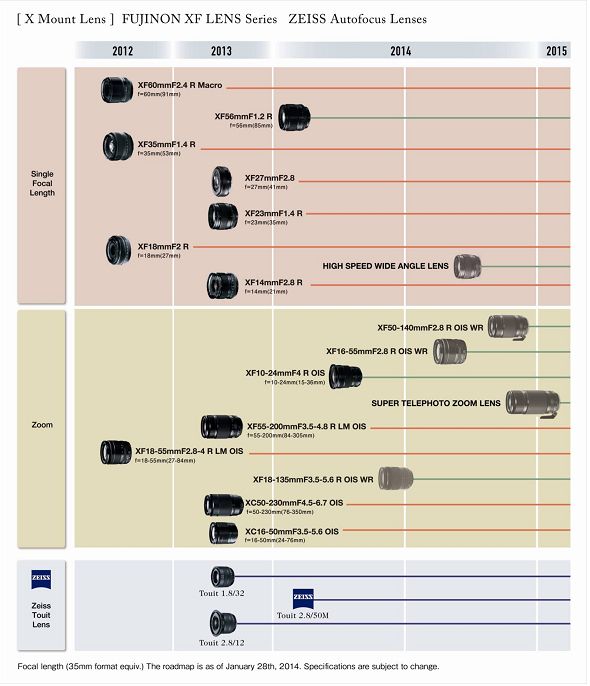 Promotional Video
Key features of the Fujifilm X-T1
Evolved electronic viewfinder
1. High-precision 2.36 million dot OLED viewfinder
2. Highest viewfinder magnification for digital cameras of 0.77x*
3. Wide viewing angle (diagonal 38° and horizontal 31°)
4. Ultra fast Real Time Viewfiner with a lag-time of 0.005sec** (less than 1/10 of existing models)***
5. Four different display modes: Full, Normal, Dual and Vertical.

Full mode: Displays shooting information at the top and bottom of the screen to avoid obstruction of the view.
Dual mode: Adds a small second screen for checking focus point with Focus Peak Highlight or Digital Split Image*4.
Normal mode: Lets you concentrate on framing the shot in Auto Focus mode while keeping you aware of how the shooting conditions are changing, making it the perfect setting for sports and action photography
Portrait mode: When in Full or Normal modes, it rotates the shooting information interface when the camera is turned vertically.
Ultimate high-speed responses, including the world's fastest AF
World's fastest AF of 0.08 seconds*5 is achieved with Fujifilm's proprietary imaging area phase-detection. Startup time of 0.5 seconds*6, shutter time lag of 0.05 seconds and shooting interval of 0.5 seconds*7 have been achieved with the image processing engine EXR Processor II — with more than twice as fast a processing speed as the previous processor.
Phase detection AF and motion predictive AF for continuous shooting up to 8 frames per second*8.
World's first compatibility with Ultra High Speed UHS-II SD memory cards.
Weather resistant structure
Dust and water-resistant body with approximately 80 points of weather sealing. Freeze resistance to -10℃.
Vertical battery grip VG-XT1 and three new zoom lenses offer the same weather resistance to secure the entire system.
High resolution, low noise and unique color reproduction
16.3 megapixel APS-C size X-Trans™ CMOS II*4 sensor with original color array to control moiré and false colors without a optical low path filter.
Resolution and low noise comparable to that of models with 'full-frame' sensors.
Proprietary image design technology reproduces true-to-life colors.
Redesigned circuit board design enables high ISO 51200 setting*10.
Lens Modulation Optimizer technology maximizes each lens' performance.
Flagship build quality and intuitive operation
Die-cast magnesium body provides a sturdy and durable, while compact and lightweight design.
Double-deck, precision-milled aluminum dials for shutter speed, ISO setting, exposure compensation, metering and drive mode, with notched settings.
Body and grip designed for correct balance when attaching telephoto and large-diameter lenses.
Twin command dials and six Function buttons for instant control and customization.
Tempered glass 1.04million dot high-precision tilting LCD monitor.
Accessories for refined shooting
The Vertical battery grip (VG-XT1) completely integrates with the body in both vertical and normal position, while offering weather resistance. The grip includes shutter release button, twin command dials, AE-L and AF-L buttons, Focus-assist button and Key Lock Lever in the same orientation as the body.
An EF-X8 flash (Guide Number 11)*11 is included with the camera and has a compact body designed to match the X-T1 plus Fujifilm's Super intelligent flash performance.
The Assist grip (MHG-XT) supports extended shooting. Your battery and card can be removed with the grip in place when using a tripod. It also works as a quick-release plate on the tripod.
Enhanced wireless functions
Free "FUJIFILM Camera Remote" application and "Wireless Communication" function allows users to remotely shoot images from smartphones and tablets.
Wireless functions via the "FUJIFILM Camera Remote" include Touch AF, shutter release for stills and movies, shutter speed, aperture, exposure compensation, ISO sensitivity, Film Simulation modes, White Balance, macro, timer and flash.
Instant transfer and location tagging of images via your smartphones and tablets*12.
Wi-Fi® transfer*13 also enables backup of the data in the camera onto the computer*14 wirelessly.
Interval timer shooting
Interval timer shooting for Time Lapse photography is available with intervals of 1 second to 24 hours and up to 999 frames.
* Highest VF magnification ratio among digital cameras. Fujifilm research as of January 2014. Approx. 0.77x magnification with a 50mm lens (35mm format equivalent) set to infinity and -1.0DP.
** Fujifilm research as of January 2014.
*** Compared to FUJIFILM X-E2
*4 "X-Trans" and "Digital Sprit Image" are a trademark or registered trademark of FUJIFILM Corporation.
*5 Fastest AF speed among digital cameras equipped with an APS-C or larger sensor. Measurement conducted by Fujifilm research based on CIPA guidelines using the X-T1 equipped with XF14mmF2.8 R lens in High Performance mode as of January 2014.
*6 Equipped with XF27mmF2.8 in High Performance mode
*7 MF mode
*8 AF-C shooting mode
*9 RAW shooting mode
*10 Extended output sensitivity
*11 At ISO 200. At ISO100, guide number of 8 based on CIPA guidelines.
*12 Maximum multiple image transfer is 30 photos or 2GB.
*13 Wi-Fi® is a registered trademark of the Wi-Fi Alliance
*14 This function requires installation of the free application software FUJIFILM PC AutoSave in your personal computer.
FUJIFILM X-T1 Accessories list:
Dedicated all-leather case BLC-XT1 
Vertical battery grip VG-XT1 
Hand Grip MHG-XT 
Compatible with all Fujinon X Mount lenses 
M Mount Adapter for additional lens compatibility
Four dedicated flash models to choose from depending on requirements (EF-X8 , EF-X20, EF-20, EF-42)
Protector filters (PRF-39, PRF-52, PRF-58, PRF-62 and PRF-72 (For XF10-24mmF4 R OIS) )
Remote release RR-90
Stereo Microphone MIC-ST1
DC coupler CP-W126 
AC adapter AC-9V