Viltrox 75mm f/1.2 Reviews – The Praise Continues!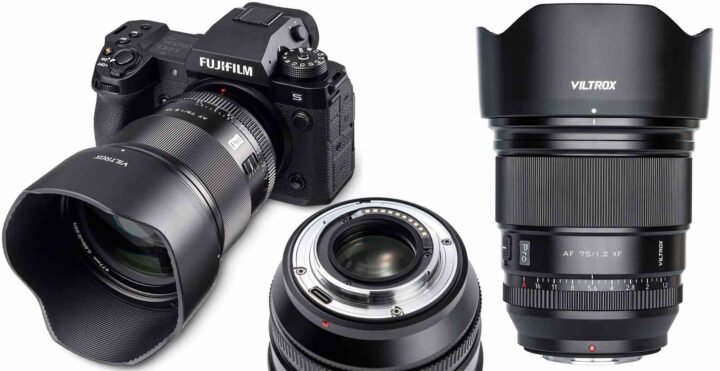 The Viltrox 75mm f/1.2 keeps up getting excellent reviews.
Down below is a video by Damian and also Opticallimits posted its review.
Opticallimits gives it a "highly recommended" and concludes:
Competition
The Viltrox AF 75mm f/1.2 PRO XF has two main competitors within the Fujifilm camp – the new Fujinon 56mm f/1.2 R WR and the 90mm f/2 R WR. The 90mm f/2 R WR is an outstanding lens and the new 56mm f/1.2 is certainly no slouch either. However, both are substantially more expensive. The Fujinon XF 90mm f/2 R WR has a linear AF motor so if you need a really fast AF, it may be a better choice.
Verdict
[…] The f/1.2 setting is perfectly usable with a very sharp center quality and pretty good corners/borders. The center is tack sharp at f/1.6. The outer image field doesn't improve that much when stopping down but they have a nice peak quality at f/5.6 if you want to push it. Lateral CAs as well as image distortions are basically absent. Surprisingly, axial CAs (LoCAs) are also very low at f/1.2 and gone from f/2 already. We also didn't notice any purple fringing at large aperture settings. The vignetting is a bit on the high side at f/1.2 but image-auto correction can mostly fix this for you. Besides being capable of producing a very shallow depth-of-field in the first place, the bokeh is also very nice, especially in the image background. Out-of-focus highlights are a bit too prone to producing "cat eyes" though.
Another highlight of the Viltrox lens is its high build quality which is easily on the level of the best Fujinon lenses. The lens feels reassuringly sturdy thanks to a metal body and the inner focusing system. The added weather-sealing also illustrates the high ambitions that Viltrox has with this lens. […] The AF may not be the fastest on the planet but it does a decent job.

The Viltrox is becoming a force to be reckoned with now. Given the degree of refinement of the AF 75mm f/1.2 PRO XF, they are now truly competing with the big boys – at a much lower price. While not perfect in every aspect, it is impressive what the lens can do for you straight from f/1.2. As such, it receives our "highly recommended" badge..
You can read the full review and see the test charts at opticallimits.