Top Fujifilm Product 2017 – VOTE NOW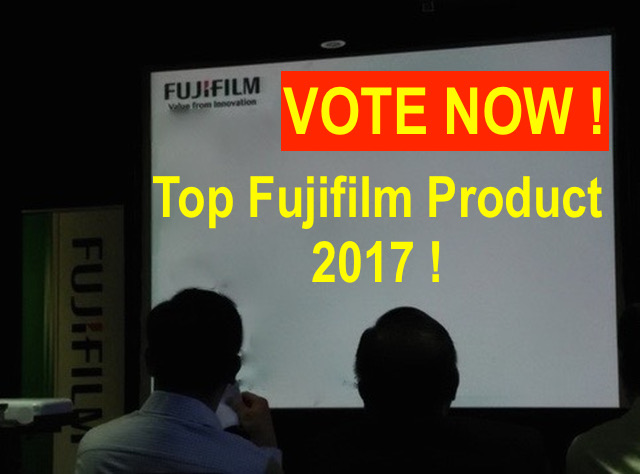 Fujifilm Reads You!
See the original FujiRumors Poll, that Fujfiilm used in an official presentation to the Press
Top Fujifilm Product 2017
Ok guys…
I don't think Fujifilm has something significant to launch still in 2017, so it's a good moment to ask you, what was the most exciting Fujifilm product of 2017 according to you.
Last year, we had a clear winner, the currently discounted Fujifilm X-T2, with 46% of your preferences. I'm curious to see if also this year the results will be so clear.
I will include again the Fujifilm GFX 50S in the poll, because the official announcement with final specs and price took place only in January 2017.
I will not include the graphite X-T2 and graphite X-Pro2 + XF23mmF2 that have been announced at the beginning of January 2017. Also not included are the Instax Square SQ10 Hybrid camera (currently discounted for Black Friday) and the Instax Share SP-3 Square printer, as well as Fujifilm's Kaizen firmware udpates.
And remember… not only the very Top Fujifilm Managers officially "Love" Fujirumors, but FujiRumors is by very far Fujifilm's Nr.1 resource for online feedback*, thanks to your terrific participation.
It goes so far, that Fujifilm even displays our polls in internal meetings. Looks like they simply can't ignore a community that is able to drop 11,000 votes in a single poll within 2 days ;).

So time for you to let Fujifilm know what you particulary liked this year… and keep up being so active and constructive here on FR, so that Fujifilm will keep up reading this blog and your comments/feedback also in 2018 ;) .


Loading ...
_ _ _
* It was your feedback and negative poll results, that killed the monochrome X-Pro1 and your positive pressure that revived the X-E3 plans and made Fujifilm say here "we are aware of the many X-E3 request".