"Theory Says, all Future Fujifilm Cameras will have IBIS" – Fuji X Photographer Jens Krauer at FujiLove Podcast with Hugh Brownstone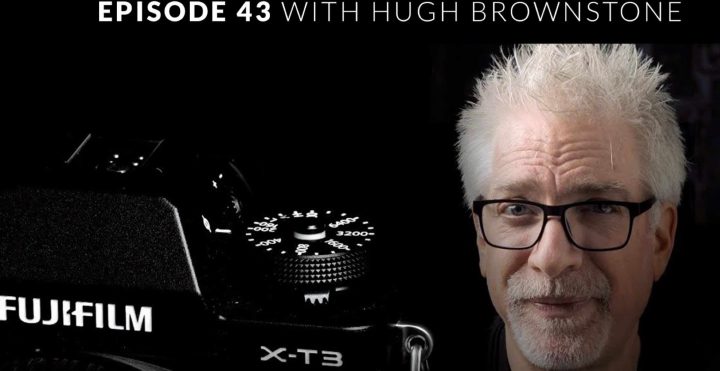 Fujifilm X photographer Jens Krauer, who runs the FujiLove podcast, hosted Hugh Brownstone in his latest episode.
Both have excellent connections with Fujifilm, and I'd like to highlight the gear related part of their talk.
Hugh fell in love with manual controls on Fujifilm cameras
IBIS makes a huge difference for stills and video
Hugh is waiting for the Fujifilm X-H2, to replace his Panasonic GH5
Jens says that there is a theory floating around, that all Fujifilm cameras will have IBIS
Hugh says in this talk to Fujifilm managers, they confirmed him that shrinking IBIS is important, so that they can put it into smaller cameras
Hugh says that, if Fuji could, they would put IBIS in an X-T4
Hugh prefers the definition "super full frame" instead of "large format" for the Fujifilm GFX
Hugh says taking the dials of the GFX100 makes absolute sense
Hugh would like a GFX50S with dials and without that brick on the back
Jens says he thinks Fujifilm is working on that
Hugh says Fuji should refresh their lens lineup to make them more silent and suitable for video
Hugh loves the Fujinon MK lenses, although he'd prefer to have 16mm instead of 18mm on the wide end
Hugh desires a tilting EVF for Fujifilm's APS-C cameras [currently only available only on GFX system]
His desert island gear would be a Fujifilm X-T3 with XF35mm f/1.4
Fujifilm X shooter are different (in the positive way) from fans of other brands, Hugh notices that in the comments to his Fuji reviews compared to Sony etc.
The whole 1+ hour episode is well worth to listen, so head over at sticher or Fujilove.
Thanks to the anonymous FR reader for letting me know, and looking forward to hear from you again ;).
→ Good luck in finding your deal at AmazonUS. Here are some links to Prime Day Deal categories:
Prime deals also at