The New "rumored" Fujifilm Lens Roadmap :: And will the XF 33mmF1.0 Really Come This Year?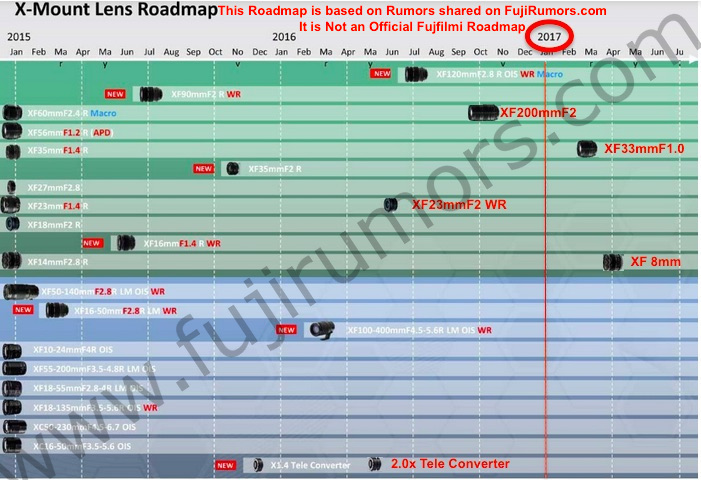 the New FujiRumors rumored Lens Roadmap
_ _ _
Ok, Fujifilm said it: there will be 2 more lenses this year, that are not included in the Roadmap right now (+ the 2.0x Teleconverter unveiled at the CP+)
So I was looking at the FujiRumors rumored Lens Roadmap, and I noticed that it was quite messy, with all the lenses listed as to be announced in 2016. But as we now know, only 2 of them will come this year.
It's pretty sure that one of these 2 lenses will be the XF23mmF2 WR (rumored to come even earlier than the 120mmF2.8).
But which will be the second lens? I still don't know it. It could also be a lens that has not been rumored so far. So for now I'll just make a very personal guess (no rumor)… it could be the XF200mmF2!
And what about the XF33mmF1.0? Couldn't that be the lens that will come in 2016? I mean, there was even a rumor (from a New Source – still unconfirmed), that said it will be "unveiled" at Photokina!
Well, this rumor could be true, but there is a difference between "unveiled" or "presented" and "released".
All we know from a trusted source, is that the XF33mmF1.0 got green light from the Fuji Bosses in late 2015. This means that starting from late 2015, Fujifilm has to design, produce, test, correct, improve and finally manufacture & ship this lens. I believe that for the whole procedure, one year is not enough time… especially considering that such a super-fast prime is a challange to design. If Fuji wants to make it a high quality ultra-fast lens worth of the name "Fujinon", they should not be over-hasty to bring it to the market.
Take your time, Fuji… and make it awesome!
Fujifilm might show us a mock-up or early protoype at Photokina, but I believe (no rumor) that it will take until 2017 before the final lens will start falling into our hands.
I know you guys are also very interested in this rumor and many (especially PROs) could make excellent use of such a high speed lens. So you can bet I'll put my best into this rumor and I hope that with the help of FR-sources, I can give you an update as soon as possible.
Don't miss to follow FR on Fuji X Forum, Facebook, RSS-feed and Twitter
Samy's Deals

[shoplink 43303 ebay]XF14mm[/shoplink]- save $290
[shoplink 43304 ebay]XF18-55mm[/shoplink]- save $250
[shoplink 43305 ebay]XF18-135mm[/shoplink]- save $280
[shoplink 43306 ebay]X-T1 + XF18-55mm[/shoplink]- save $430
[shoplink 43307 ebay]X-T1 + XF18-135mm[/shoplink]- save $500
Onecall Deals

[shoplink 43298 ebay]X100T black[/shoplink] – save $400
[shoplink 43299 ebay]X100T silver[/shoplink] – save $330
[shoplink 43300 ebay]X100T black[/shoplink] – save $330
[shoplink 43301 ebay]Graphite Silver X-T1[/shoplink] – save $400
Adorama Deals

X-E2 body + hand grip for $499 – Silver / Black
X-E2 kit + hand grip for $699 – Silver / Black