The "Leica-Killer" Fuji X-Pro2: "Nearly the FIRST EVER ergonomically Perfect Camera, Except For…"? – With POLL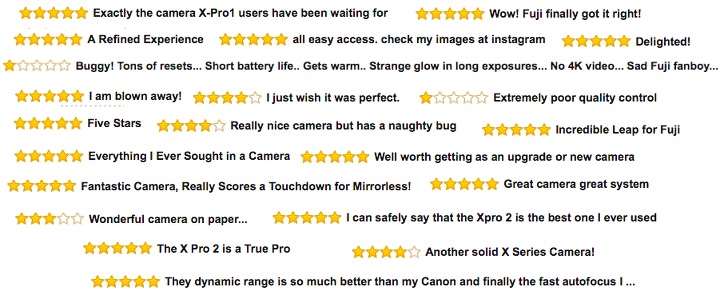 Fujifilm X-Pro2 :: Plenty of Customer Reviews now on AmazonUS
_ _ _
"Leica-Killer" X-Pro2… the Almost Perfect Camera
eoshd is very pleased by the stills & video performance of the X-Pro2. He really loves it and says that he has "never enjoyed a camera more on a combined video and stills shoot than I have the X Pro2."
Great images, great shooting experience, logical control layout & great menu. He calls it even a "Leica-Killer",  because it's cheaper, lighter, faster "but just as nice to shoot with as the legendary rangefinder in terms of feel and optics. It's even pretty close for build quality considering the gap, no, gulf in price."
But we have already read so many good things about the X-Pro2, so let's focus on the biggest complaints this time.
"4K: The inglorious own goal however is that even though by their own admission the Fuji X Pro2 is fully equipped for 4K video, Fuji admit that due to 'only' 20% of their users wanting it, they have disabled it in firmware. UTTER stupidity. 20%!! Why potentially flush even 0.01% of your sales down the toilet for the sake of firmware? Are they seriously expecting ALL video users to get the X-T2 instead? Why not let us have the choice of body? […] If they don't re-enable 4K in firmware on this camera and reserve it as an X-T2-only feature, they're making an enormous mistake."
"The X Pro2 is nearly the FIRST EVER perfect digital camera ergonomically for photography, but for one disturbing blunder… The combined shutter and ISO dial is horrendous!"
The ISO Dial
Ok, so let's talk about the ISO dial… loved by some, hated by others.
As you can read at fujifilm-x, Fujifilm decided to go for the ISO-dial because it looks so retro and it's practical:
"the practical operation is about being able to manipulate the 4 elements [ISO, Shutter Speed, Aperture, Exposure] with precision. […] when the X-T1, a camera that had a dedicated ISO dial, was announced, then people quickly realized the significance. We started getting request to "Add the ISO dial to the next X-Pro model!"
Fujifilm tested different dials. At the end they went for the ISO/Shutter combined dial, a technically rather complicated solution.
"Why do we spend so much time on this one dial? Unfortunately there is no economic and rational answer to that question. But it was something that the developing team of X-Pro camera had always dreamed of achieving. And it was also something that the passionate X-Pro users strongly wished for."
But it's exactly this dial, that eoshd calls "horrendous". From what I could read so far, some love the dial, other find it cool but not practical, while other would prefer not to have it at all. So I thought it's time for a Poll.
When developing the X-Pro2, Fujifilm considered at least 3 ISO-dial options: the "Shutter/ISO" combination, the "Sub LCD" ISO dial and the "Exposure & ISO" dial. I'll share a pic of each solution down below (via fujifilm-x). Check them out and then Vote your favorite option:

Loading ...
Fujifilm X-Pro2: USA: BHphoto / AmazonUS / FocusCamera / Adorama / Pictureline / BestBuy  CANADA: AmazonCA / EUROPE: AmazonDE / AmazonUK / WexUK / PCHstore / AmazonITA / AmazonFR / AmazonESP /   AUSTRALIA: CameraPro
SUB-LCD ISO DIAL
_ _ _
EXPOSURE / ISO DIAL
_ _ _
SHUTTER/ISO DIAL