The Latest and Greatest…. NOT!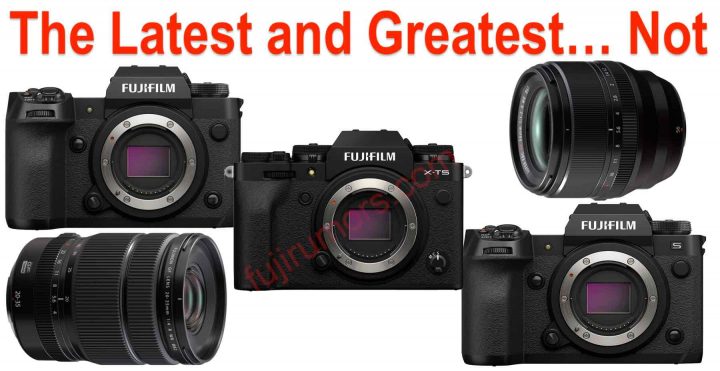 Not that it is my fault… but I certainly do not help.
I mean, I am attracted by the latest and greatest, my GAS is in constant frenzy (and my wife in constant worries ;)).
My techy-nerdy side is always looking at the details that make the latest and greatest Fujifilm gear better than the one I already own.
With one little distinction: my focus on the latest and greatest does not remain contained to my private life, but I share it publicly here on FujiRumors.
Tens of thousands of fellow X shooters follow me every day in my "obsession" with the latest and greatest, and sometimes the message here on FR might pass, that only what's brand new and shiny is worth to be considered for this blog.
So let me re-focus, let me for one time ignore whatever Fujifilm has launched in terms of super new gear, and share a roundup that focuses on not so new gear that still brings great joy every day to many of us.
So, I am sorry, Fujifilm X-H2, X-H2S, XF56mmF1.2 R WR, GF20-35mmF4 and even Fujifilm X-T5 and what not. This is not your article. This is not your space.
Nope, this space is for all that gear that came before you and made Fujifilm great, before you even ever saw the light of the day.
The Roundup
Cameras
Lenses
Videos
FR-reader Josh: recent short film I shot on the X-T4. It's shot entirely with that camera and is almost completely done in low light, which is commonly regarded as a "challenge" for APS-C sensors. I think it could be an interesting thing to show off as a true "real world" example of the camera being used in challenging environments rather than your typical reviews. The video really pushed myself and the camera to the limits as I shot in near freezing weather during the winter nights and also mounted the camera on cars speeding up to 60mph.