The Fujifilm X-Pro2 Sucks… a lot of Battery Power :-) :: This Accessory Allows you to Charge Quickly Multiple Batteries!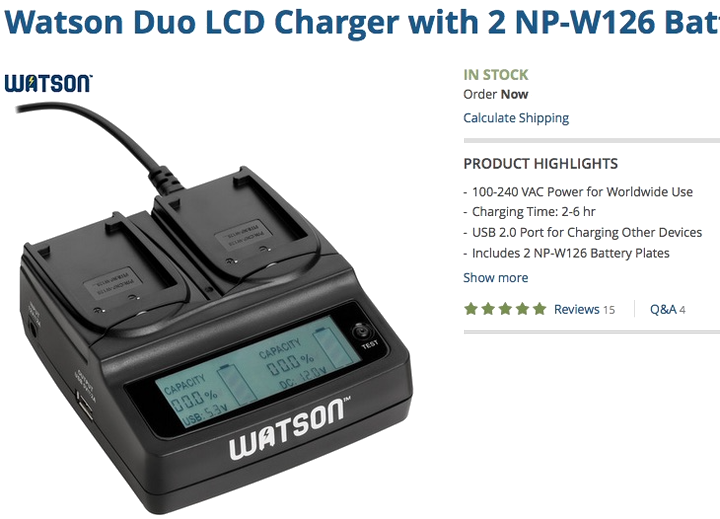 – – – X-Pro2 Bug-Fix Firmware ver. 1.01 is out – – –
Reviewers said it pretty clearly so far: the Fujifilm X-Pro2 does not really shine when it comes to battery life (nor do other X-series cameras). It's a minor issue for me, since spare batteries are small, cheap, and some are really good (read the article about the Best Third Party Fuji Batteries).
However, the more batteries you own & use, the more you have to charge when you come back home (or at the hotel) after a long day of shooting… batteries that you need fully charged again the next day.
FR-reader Willy (thanks!) just dropped me an email with a link to a simple solution: a dual battery charger, which allows you to charge 2 batteries simultaneously using one single socket wall.
Maybe many of you already own one, but for those who (like me) somehow missed this accessory, it might be worth to consider to grab one.
In USA you can get the Watson dual battery charger at BHphoto and AmazonUS. The charger also has a USB 2.0 Port for Charging Other Devices. On Adorama you can find the Green Extreme Dual Smart Charger.

For Canada check out AmazonCA.
I've looked for the charger in EU, and I've found the Patona Dual USB charger at AmazonDE. For the Watson Duo equivalent version check out AmazonDE here. You can find the dual chargers also at AmazonUK, AmazonITA, AmazonFRA, AmazonESP.
Look worldwide for Watson/Patona dual Chargers on eBay.