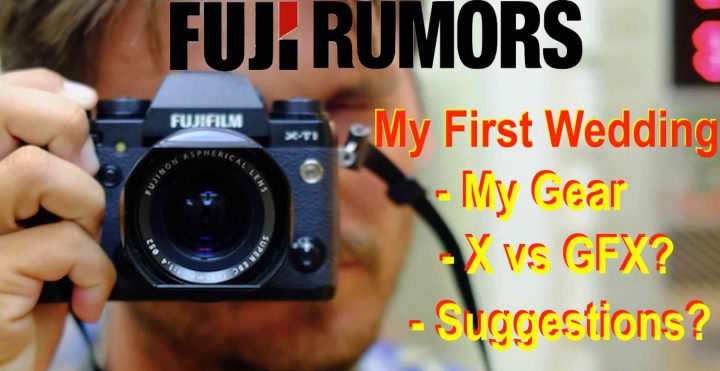 Maybe you remember.
Back in January 19, 2020, a very dear friend asked me if I can photograph part of his wedding and I accepted. You can read the story here. But we all know what happened in 2020, and the wedding had to be postponed.
But now time has come. In just a few days, I will grab my gear and photograph his wedding.
When I initially accepted, I was pumped and excited about it and I reported about it on FujiRumors. But as soon as I did, some of you guys warned me that I am putting my friendship at risk, which caused a little bit of panic in me.
But then I thought back at what we lived together. Lots of great moments, but we also crossed the darkest hours together, which are too sad to touch on in this article, but I briefly mentioned something in the comments here and here.
What binds us is too strong to be put in danger by some eventually not so fantastic pictures.
And also, I have been very clear to him and his wife: I've never photographed an event like this.
I mean, I know I have excellent cameras and lenses, I know how to use them, I understand photography, but this does not make me a wedding photographer. So do not expect anything near to the professional results of the official photographer.
And speaking of the official wedding photographer…
The Official Photographer is the Boss – Don't Stand in His Way!
One more thing gives me huge confidence: they do have an official photographer. He will be the boss and under no circumstance I will interfere with his work. He is the Pro, he has the skills and experience.
So whatever I shoot, however my images turn out, the most important moments of the day will be captured by him.
What I have been asked for is to just photograph the preparations to the wedding of the husband. Hence i will go to his home, take a few pictures how he gets ready for the wedding etc. And then, after dinner, the official photographer will leave and I will be taking some pictures of the people chilling, talking, dancing etc.
Plus, without interfering in no way with the work of the official photographer, during the day I want to try to get some candid shots of the guest interacting with each other and so forth.
The Gear I'll Use – The Power of X