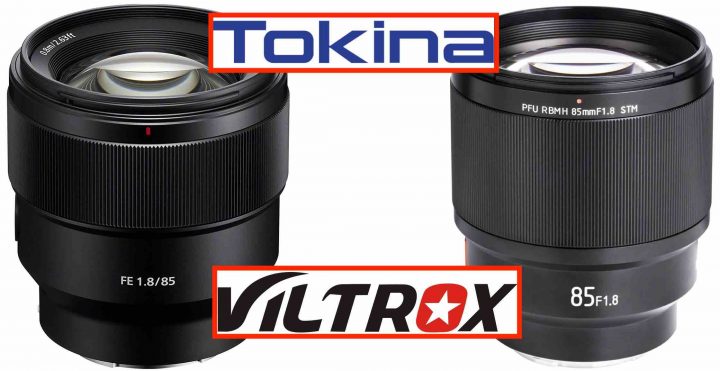 Recently Tokina announced the launch of three Fujifilm X mount lenses:
Tokina atx-m 23mm f/1.4
Tokina atx-m 33mm f/1.4
Tokina atx-m 56mm f/1.4
There was some confusion also today, because Tokina just launched the Tokina 11-20mm f/2.8 ATX-I, but the site, reporting about it, says that the ATX-I is for Canon and Nikon only, and the ATX-M (the three above) are for Fujifilm.
So, no Tokina 11-20 for Fujifilm for now.
Now, let's talk about the ATX-M lenses.
As many of you noticed, they looked like rebranded Viltrox lenses. The optical constructions seems identical, but the body seems build slightly different.
Ben Sullivan investigated this topic, comparing the Tokina 85mm f1.8 & Viltrox STM 85mm f1.8. Here is what says:
Upon comparing the optical design, Ben saw that the two lenses share a nearly identical composition.
The MTF results looks pretty similar too. Tokina says that they've used a "proprietary coating" on the 85mm ATX-M, which could account for the moderate resolution difference, along with normal deviation between each individual lens tested.
pretty noticeable physical similarities as well
Feature wise, there are also quite a few similarities between the two lenses. In fact, the only non-identical spec I found was Tokina's 0.125x magnification versus the 0.12x magnification listed for the Viltrox. […] It may be that they are indeed identical and that one company simply rounded down from x0.125 and the other rounded up.
both Tokina and the Viltrox 85mm lenses currently display as the Zeiss Batis 85mm f/1.8 in CaptureOne Pro
Ben reached out to Tokina Japan for an official response
Tokina answered "Tokina lenses does not have a relationship with Viltrox
Tokina and Viltrox apparently have no business relationship whatsoever.
Ben's best guess would be that Tokina and Viltrox are both working with a well established 3rd party Chinese lens manufacturer that creates prototypes and allows other companies to customize and sell their lenses under their own brand names.
This makes oodles of sense if you think about how fantastically well Viltrox did with releasing their first ever lenses for Sony and Fujifilm last year.
You can read the full article at ayrn.io.
FujiRumors is on Patreon, Facebook, Instagram, RSS-feed, Youtube, Flipboard and Twitter
Our Owners Groups
Our Facebook Pages