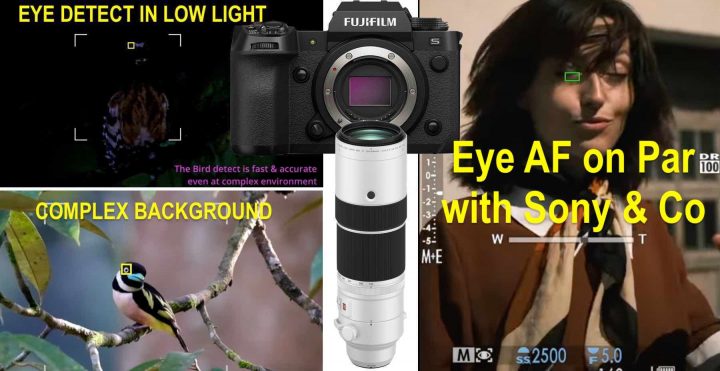 Bird Tracking
Just yesterday I reported about a video by tb- photography, who in 1 minute was able to give us more clues about the real autofocus performance of the Fujifilm X-H2S then some of the big youtube channels in 20 minutes of talks (and in some cases without showing and samples).
And since smaller youtube channels seem to often stay on the piece better than the big ones, today I'll share a video of an even smaller youtube channel, in fact so small, that this time even I missed this video, but a fellow FR-reader made it notice to me today.
Passionate bird photographer liewwk Nature runs a 860 subscriber channel with hundred of bird photography videos.
He posted a 5 minute video of birds tracking with the new Fujifilm X-H2S and XF150-600mmF5.6-8.
A lot of it has been taken in tropical forest environment, often in tricky and low to very low light conditions and with a complex and distracting background.
In these objectively difficult conditions, Iiewwk Nature writes:
The new system just weight 2.4KG which allow us to shoot 150-600mm (225-900mm 35mm equivalent) which is one best available

This system allow me have >50% success rate 1/125 at 900mm which is my recommended minimum shutter speed for handheld.

The AF is fast and accurate (on bird eye), it may not best in market but it is very good and accurate even at low-light & complex environment.

For the Auto-focus, I think this is a huge upgrade compare previous X series. The Animal Detection just simple amazing
Keep in mind that this is the success rate mentioned is for shooting at 900mm.
In my eyes it already looks pretty amazing. And considering that this is an early pre-production firmware (on both, camera and lens), I guess it can get only better from this point on until the final firmware is released.
You can find the video down below and his blog post about his experience at liewwkphoto.
Eye Autofocus
The second video below is of Lee Zavitz, who used the Fujifilm X-H2 with the XF18-120mmF4 for a portrait session and he is says that eye AF is crazy and it detects the eye even when the eyes are mostly blocked by her hair.
He says he is really impressed by eye detection and he did not expect it to be that good.
It's still a beta firmware, but it is on par with competitors in terms of eye autofocus.