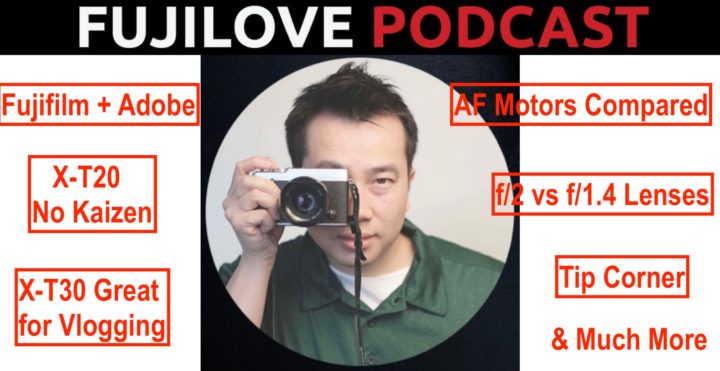 FujiLove Podcast
The second episode of the Fujilove podcast with Fuji Guy Billy just went online (episode 1 here).
It's a one hour talk, and assuming not many of you have this time right now (you are once again reading FujiRumors at work, right? ;) ), I have summed it up all in practical and compact key points for you. Once you have more time, listen to it all here.
Adobe, Worms, X-Trans and Alternatives
Adobe's new enhance detail feature addresses the worm effect, which appears especially in shadow areas zoomed in at 400%
worm effect is an Adobe X-Trans interpretation problem
other options are: free Fujifilm X RAW Studio, in camera RAW converter, free Capture One Express for Fujifilm
Fujifilm tries to work close with Adobe to try to provide best possible understanding of the X-Trans files
Necessary to upgrade from X-T20 to X-T30 for landscape photography?
X-T30 has latest technology
X-Processor 4 and X-Trans 4 BSI sensor much faster readout. That's great for video (less rolling shutter for example)
on the photo site, X-T20 and X-T30 are comparable
if you are happy with X-T20 image quality, Billy does not recommend to upgrade for landscape photography
most improvements are for sports autofocus tracking and video
X-T20 is at its maximum potential, so you probably won't see much updates to it anymore for better AF system etc.
by FujiRumors: let's hope this does not mean the Fujifilm X-H1 is also at its maximum potential, since it uses the same sensor/processor of the X-T20
Should people get the wide aperture lenses f/1.2-f/1.4 or the f/2 series of lenses?
depends on needs
for low light, professional portraits and for shallower DOF, get the fast aperture lenses
f/2 are great for travels, compact and lightweight
Newer cameras like X-T3 improve autofocus also on the f/1.2 and f/1.4 lenses
Lenses for Video: Stepping vs Linear Autofocus Motor
Fujifilm made big steps in video department
when using AF in video, the f/2 lenses are better since they use quiet and fast AF stepping motors. AF moves smoothly
downside: stepping motors do not have the strength to move heavier glass fast enough. For faster glass you need the linear motor with higher torque capabilities
higher torque is great for stills, but you don't want such fast AF movements during filming, where you want smooth and gradual focusing
Fujinon MKX lenses: manual focus only lenses, hence no focus breathing. They are sharper than XF16-55mmF2.8 and XF50-140mmF2.8
for family, friends, vlogging, Billy choses the f/2 lenses
Autofocus Motors Compared: Stepping vs. Linear vs. DC coreless vs ultrasonic

Billy says the 56mmf/1.2 is equivalent to 85mmf/1.2 in terms of 35mm field of view. It is very fast and hence has big glass elements the AF needs to move
autofocus motor options are:
– stepping motors
– linear motors
– DC coreless motors
– ultrasonic type of motors
Each of these 4 motors has Pros and Cons
XF56/1.2 has a DC coreless AF motor, because stepping motor is not strong enough to move big glass quickly, unless a much bigger stepping motor is designed, which would make lens very big
DC coreless motor allowed the XF56/1.2 to be smaller and still have enough power to move the glass elements
problem with DC coreless motors is that they do not move as smoothly and consistent as stepping motors
XF35/2 uses a stepping motor, because lens elements are small and light. Silent and smooth
linear motors are bigger than stepping motors, but silent and smooth like stepping motors, so great for video. Some Fujinon lenses have even 4 linear motors inside
AF motor choice depends on the prupose on the lens: is it mento for video or stills? Is it a fast aperture lens? Should it be compact?
Camera Corner – Fujifilm X-T30 and X-T3

Fujifilm X-T30 has lots of features of X-T3
X-T3 was best hybrid camera of 2018 according to many sites
X-T30 offers great value feature-wise and takes over lots of features of X-T3
30 fps with no EVF blackout, great video functions like internal F-log
X-T30 is a fully featured camera
Fujifilm cameras look beautiful, and also design and controls is reason to buy a camera
in the Fujifilm system, you don't sacrifice image quality if you buy a $1,200 or $1,800 camera. Strategy is to use same sensor/processor for same image quality
Lens Corner – XF16mm f/2.8
XF16mm f/2.8 falls into the f/2 compact lens lineup. Small, fast AF, weather sealed, excellent IQ with nice detail and a great minimum focus distance
16/28 Is scary good in terms of quality for its price
XF16mm f/1.4 is different type of beast. More control over DOF and more flexible in low light, but Billy thinks Fujifilm will sell much more XF16/2.8 lenses than 16/1.4, because it's great value
for small camera bodies like X-T30, the f/2 and f/2.8 lenses are great combo
16/2.8 is also a good lens for vlogging, still some nice shallow DOF
Tip Corner – Movie silent control
movie silent control is found in X-H1, X-T3 and X-T30
movie silent control gives you independent control from your dials. Just tap on the back of the screen and from there use touch controls to change ISO, f/stop, Shutter Speed
even better than touch: use the joystick to change movie silent control settings
movie silent control allows for independent video/stills controls
on X-T30, you can set one of the function buttons to turn ON/OFF movie silent control
Will X-T and X-H get flip out screen in future? X-T30 for Vlogging?
Billy hoped for an X-T30 with flip-out screen and hopes for it to come to X-T/X-H line in future
X-T100 with selfie screen has different design, and it's actually wider camera than X-T20/30, because there needed to be room for the selfie screen hinge
with HDMI output you can use external monitor to see yourself
It comes down to costs and design. Changing the design raises costs
Top concerns of vloggers:
1 – Am I in the frame? With wide 16mm lens or XF18-55 you don't have to worry about not being in the frame
2 – Is the camera still recording? X-T30 has tally light
3 – Am I in focus? Eye AF on X-T30 is huge improvement.
X-T30 is very good vlogging camera. It has also a low rolling shutter
Selfie screen can be distracting. Billy used X-T100 for vlogging, and he tends to look at the flip-out screen instead of looking at the lens
Accessories and Software
App Improvement
Updated App coming around X-T30 launch date [March 20]
That's all folks, and don't forget to follow FujiRumors on Facebook, Instagram, RSS-feed and Twitter :)
X-T Rumors, News and Community