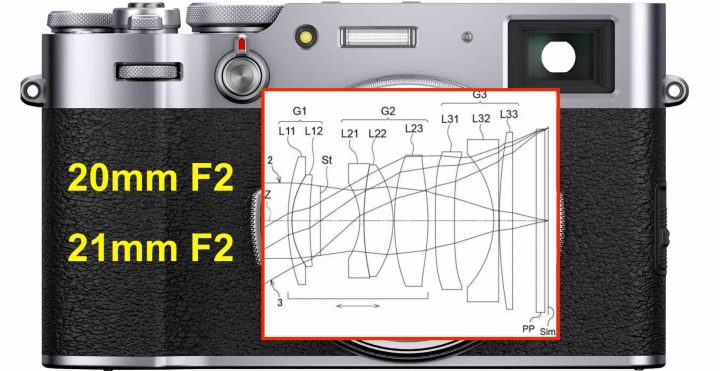 As you know, the Fujifilm X100V features a redesigned 23mmF2 lens, by adding a second aspherical element in oder to increase corner sharpness and image quality at close focusing distances at wide apertures.
Now the patent for this new lens has been spotted.
But interestingly, that same patent also includes examples of a "20mm F2" and "21mm F2" lens.
[Publication number] Japanese Patent Application Laid-Open No. 2020-177110 (P2020-177110A)
[Publication date] October 29, 2020
Description: Imaging Lens and Imaging Device
[Application date] April 17, 2019

[Applicant]




[Identification number] 306037311




[Name or name] FUJIFILM Corporation

PROBLEM TO BE SOLVED: To provide an image pickup lens having a small size, high resolution, a small F number, and high performance, and an image pickup device provided with the image pickup lens.
Here are the variations of this lens as found in the patent as spotted by the Japanese site asobinet.
I find the 23mm focal length perfect for the X100 line, but if Fujifilm is really looking into slightly wider options, then I'd go with an 18mm lens, like the Ricoh GR cameras or the Fujifilm X70 and XF10.
| | | | |
| --- | --- | --- | --- |
| | Example 1 | Example 2 | Example 3 |
| Focal length | 23.689 | 23.553 | 23.670 |
| F value | 2.06 | 2.20 | 2.06 |
| Angle of view | 62.0 | 61.6 | 61.2 |
| Image height | 14.20 | 14.20 | 14.20 |
| full length | 38.35 | 37.85 | 37.57 |
| BF | 4.861 | 3.869 | 4.560 |
| | Example 4 | Example 5 | |
| Focal length | 20.875 | 21.727 | |
| F value | 2.06 | 2.06 | |
| Angle of view | 67.8 | 68.2 | |
| Image height | 14.20 | 14.20 | |
| full length | 34.39 | 36.10 | |
| BF | 2.905 | 5.404 | |