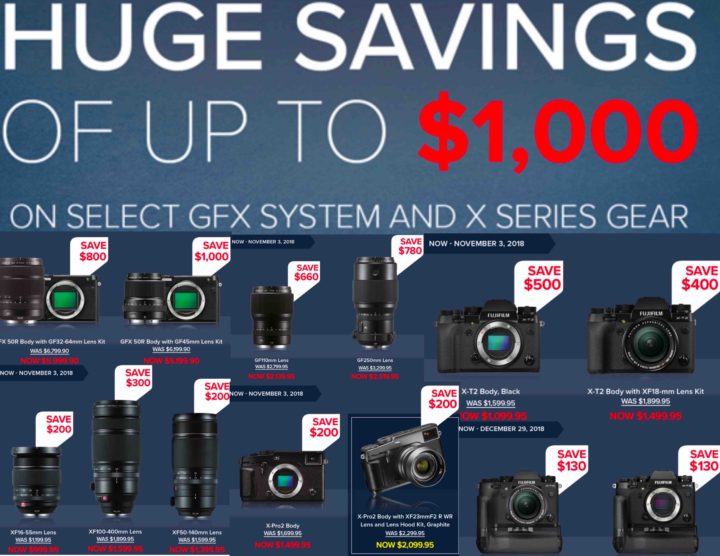 Fuji Deals are Back
The Fujifilm X and GFX camera and lens deals expired last week, and they are back this week already.
I guess Fujifilm realized, that it was not a very smart move to end the deals right before the X-mas holiday season, and decided to extend them.
Some deals are now even better. For example you now save $200 on the X-T20 instead of $150.
For now I have no indication how long they will run, but I guess Fujifilm will end them along with the Fujifilm X-T3 deals and Fujifilm GFX 50R deals, hence on December 29.
Fujifilm X and GFX deals
Fujifilm GFX 50R / 50S
GFX 50R + GF63mm (save $1,000): BHphoto, Adorama, AmazonUS, FocusCamera
GFX 50R + GF45mm (save $1,000): BHphoto, Adorama, AmazonUS, FocusCamera
GFX 50R + GF32-64mm (save $800): BHphoto, Adorama, AmazonUS, FocusCamera
GFX 50S (save $1,000): BHphoto, Adorama, AmazonUS
Fujinon GF Lenses
GF 23mm (save $620): BHphoto, AmazonUS, Adorama, Focuscamera
GF 45mm (save $300): BHphoto, Adorama, AmazonUS, Focuscamera
GF 63mm (save $350): BHphoto, Adorama, AmazonUS, Focuscamera
GF 110mm (save $660): BHphoto, AmazonUS, Adorama, Focuscamera
GF 120mm (save $640): BHphoto, Adorama, AmazonUS, Focuscamera
GF 250mm (save 780): BHphoto, Adorama, AmazonUS
GF 32-64mm (save $550): BHphoto, Adorama, AmazonUS, Focuscamera
Fujifilm X Cameras
X-T3 + v. grip (save $130): BHphoto, AmazonUS, Adorama, Focuscamera
X-T3 + 18-55 + v. grip (save $130): BHphoto, AmazonUS, Adorama, Focuscamera
X-H1 (save $250): BHphoto, AmazonUS, Adorama, Focuscamera
X-H1 + v. grip (save $250): BHphoto, AmazonUS, Adorama, Focuscamera
X-T2 (save $500): BHphoto, AmazonUS, Adorama, Focuscamera
X-T2 + 18-55 (save $400): BHphoto, AmazonUS, Adorama, Focuscamera
X-E3 (save $100): BHphoto, AmazonUS, Adorama, Focuscamera
X-E3 + XF23mmF2 (save $100): BHphoto, AmazonUS, Adorama, Focuscamera
X-E3 + XF18-55 (save $200): BHphoto, AmazonUS, Adorama, Focuscamera
X-T100 (save $100): BHphoto, AmazonUS, Adorama, Focuscamera
X-T100 + XC15-45 (save $100): BHphoto, AmazonUS, Adorama, Focuscamera
X-T100 + XC50-230 (save $100): BHphoto, AmazonUS, Adorama, Focuscamera
X-T20 (save $200): BHphoto, Adorama, AmazonUS, FocusCamera
X-T20 + 18-55 (save $200): BHphoto, Adorama, AmazonUS, FocusCamera
X-T20 + 16-50 (save $200): BHphoto, Adorama, AmazonUS, FocusCamera
X-T20 + 15-45 (save $200): BHphoto, Adorama, AmazonUS, FocusCamera
X-Pro2 black body (save $200): BHphoto, AmazonUS, Adorama, FocusCamera
X-Pro2 + XF23/2 (save $250): BHphoto, AmazonUS, Adorama, FocusCamera
X-Pro2 + XF35/2 (save $250): BHphoto, AmazonUS, Adorama, FocusCamera
X-Pro2 + XF50/2 (save $250): BHphoto, AmazonUS, Adorama, FocusCamera
X-Pro2 graphite + 23/2 or 35/2 or 50/2 (save $200): BHphoto, AmazonUS, Adorama , FocusCamera
X-A3 + 15-45 (save $50): BHphoto, Adorama, AmazonUS, Focuscamera
X100F silver/black (save $100): BHphoto, Adorama, AmazonUS, Focuscamera
X100F brown (save $100): BHphoto, Adorama, AmazonUS, Focuscamera
Fujinon Prime Lenses
XF 14mmF2.8 (save $150): BHphoto, AmazonUS, Adorama, FocusCamera
XF 16mmF1.4 WR (save $150): BHphoto, AmazonUS, Adorama
XF 18mmF2 (save $50): BHphoto, AmazonUS, Adorama, FocusCamera
XF 23mmF1.4 (save $100): BHphoto, AmazonUS, Adorama, FocusCamera
XF 23mmF2 WR (save $50): BHphoto, Adorama, AmazonUS
XF 27mmF2.8 (save $50): BHphoto, AmazonUS, Adorama, FocusCamera
XF 35mmF1.4 (save $50): BHphoto, AmazonUS, Adorama, FocusCamera
XF 35mmF2 WR (save $50): BHphoto, AmazonUS, Adorama, FocusCamera
XF 50mmF2 WR (save $50): BHphoto, Adorama, AmazonUS
XF 56mmF1.2 APD (save $150): BHphoto, AmazonUS, Adorama, FocusCamera
XF 56mmF1.2 (save $100): BHphoto, AmazonUS, Adorama, FocusCamera
XF 60mmF2.4 (save $50): BHphoto, AmazonUS, Adorama, FocusCamera
XF 80mmF2.8 OIS WR (save $150): BHphoto, AmazonUS, Adorama, FocusCamera
XF 90mmF2 WR (save $150): BHphoto, AmazonUS, Adorama, FocusCamera
Fujinon Zoom Lenses
XF 10-24mmF4 OIS (save $150): BHphoto, AmazonUS, Adorama, FocusCamera
XF 16-55mmF2.8 WR (save $200): BHphoto, AmazonUS, Adorama, FocusCamera
XF 18-55mmF2.8-4 OIS (save $100): BHphoto, AmazonUS, Adorama, FocusCamera
XF 18-135mmF3.5-5.6 OIS WR (save $100): BHphoto, AmazonUS, Adorama, FocusCamera
XF 50-140mmF2.8 OIS WR with Teleconverters option (save $200): BHphoto, AmazonUS, Adorama, FocusCamera
XF 55-200mmF3.5-4.8 OIS (save $100): BHphoto, AmazonUS, Adorama, FocusCamera
XF 100-400mmF4.5-5.6 OIS WR with Teleconverters option (save $300): BHphoto, AmazonUS, Adorama
Official Fujifilm Recommended Battery Chargers