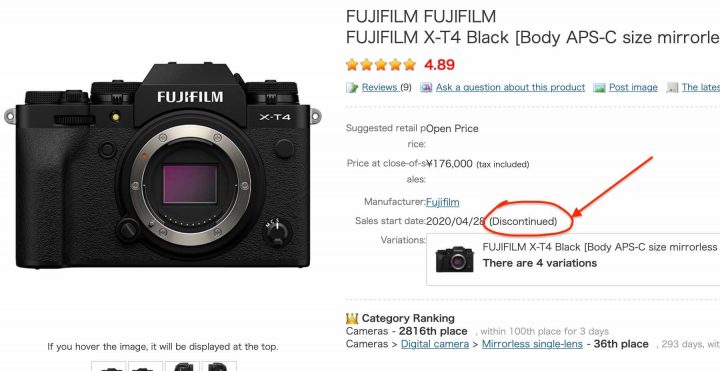 Several major Japanese stores like MapCamera, BicCamera, and Yodobashi have now marked the Fujifilm X-T4, X-E4 and X-T30II as discontinued.
Map camera still has it in stock, but they won't be receiving anymore units for sale after their stock is depleted. There's a note on the pages that says "在庫限り(生産完了品)" which translates to "Limited stock (discontinued item)".
So let's talk about it.
Fujifilm X-T5:
In the past, especially when it comes to the X-T line, once a successor was released, the older model was still manufactured for a while, simply because they remained very popular. So discontinue the X-T4 even before the Fujifilm X-T5 arrives would be very unique.
But hey, we also live unique times with the massive parts shortage.
Since the Fujifilm X-T5 will be announced shortly, Fujifilm could have decided to stop Fujifilm X-T4 production in order to use some of the X-T4 components for the Fujifilm X-T5 production. A unique, drastic but maybe necessary move. But that's just a mere speculation of mine, trying to make sense on why it is marked as discontinued at some Japanese stores.
Fujifilm X-E5:
It usually takes Fujifilm almost 4 years to update the X-E line. So a Fujifilm X-E5 coming so soon (X-E4 was announced in January 2021), would be extremely surprising.
If Fujifilm really discontinued the X-E4 as some Japanese stores write, then I believe the most likely reason is not because a Fujifilm X-E5 is about to drop, but because Fujifilm needs some of the parts to manufacture newer and more important cameras (in terms of revenue for Fujifilm) as the Fujifilm X-H2S, Fujifilm X-H2 and the imminent Fujifilm X-T5.
Fujifilm X-T40
Fujifilm needs about 2 years to update the X-T** line.
The Fujifilm X-T30 was released in February 2019. It's successor, the Fujifilm X-T30II came in September 2021. So one might think we might have to wait late 2023 or early 2024 for an X-T40, but consider that the Fujifilm X-T30II is a last second emergency product of Fujifilm: they run out of parts and in order to keep the manufacturing process of the X-T30 alive, they needed to use new and slightly improved hardware parts (such as a better LCD screen).
Not even Fujifilm sees the X-T30II as a true successor to the X-T30. So I guess a Fujifilm X-T40 in not too distant future could be a possibility.
But the problem here is: I have zero rumors or ever so slight hint and whisper about it, which makes me believe that the Fujifilm X-T40 won't come that soon.
Follow FujiRumors on Facebook, Instagram, RSS-feed, Youtube, Flipboard and Twitter.
100% Fuji Colors Power
Rumors and Discussions