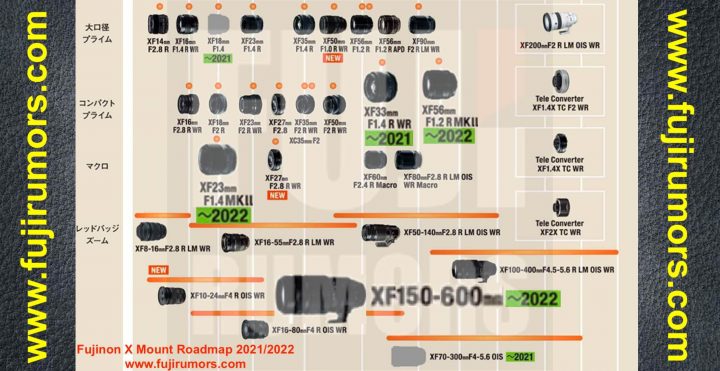 The Hidden X Mount Roadmap
Many people complain that Fujifilm is not updating its lens roadmap.
And since I love my community to be happy, let me take over the job that Fujifilm refuses to do.
Also, in the comments to our earlier posts some fellow FR-readers asked me if, in the light of the latest rumors, the timeline for other lenses is still confirmed or if something changed.
So let me sum it up clearly in a sort of unofficial roadmap today, by listing all future X mount lenses that we rumored so far on FujiRumors.
Of course I am working to add more lenses to the list. So definitely stay tuned on FujiRumors.
The Future Looks Good
It's a couple of years that Fujifilm hasn't been so active on the Fujinon X mount lens front.
Look at what we got in the last few months (late 2020 / early 2021)
And that's not even all for 2021. In fact, surely we will get the XF33mm F1.4 R WR. But will there be even more in 2021? FujiRumors is investigating and will let you know.
Also 2022 seems interesting, thanks to two highly desired MKII lenses and an intriguing Fujinon XF150-600mm. Plus, also for 2022 I am working on more, so expect updates.
The Latest Fujinon Lenses:
The Fastest Growing Fujifilm Group
Follow FujiRumors on Patreon, Facebook, Instagram, RSS-feed, Youtube, Flipboard and Twitter
Join Our Owners Groups
Join Our Facebook Pages