SUPER DEAL at eBayUS :: Save $300 on the 56mmF1.2 APD and get it for $1,199!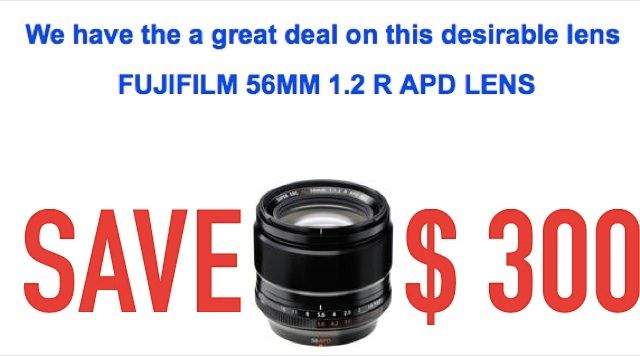 You normally pay this lens $1,499, but right now you can buy it for $1,199 at cameraland here!
"It does come with the hood, Fujifilm 1 year warranty and caps.We had an in store event and these were opened, shown to customers and put back in the original boxes. Because of this we won't sell them as new, yet they can pass for it"
There are many other deals, just push the "Read More" button to see them all.
X-T1 BODY DEALS
eBayUS seller 6ave
is right now selling a limited number (8) new X-T1 bodies
for just $1,090!
! You save $209… that's a much better deal than on the current official Fujifilm X-T1 price drop. Check out the deal
here
.
Also Samy's Camera is selling a limited number of X-T1 bodies with a $200 price drop. These are Open Box Items, in excellent conditions, though. To know more about this deal click here
USA X DEALS
X-SERIES CAMERAS
X-T1 + 18-135 WR (save $200 – price $1699): BHphoto / AmazonUS / Adorama /
X-T1 + 18-55 (save $100 – price $1599): BHphoto / AmazonUS / Adorama /
X-T1 Black Body (save $100 – price $1199): BHphoto / AmazonUS / Adorama /
X-T1 Graphite Body (save $100 – price $1399): BHphoto / AmazonUS / Adorama /
X-E2 Body (save $100 – price $699): BHphoto / AmazonUS / Adorama /
X-E2 + 18-55 (save $100 – price $999): BHphoto / AmazonUS / Adorama /
X30 (save $100 – price $499): BHphoto / AmazonUS / Adorama /
XQ1 (save $100 – price $299): BHphoto / AmazonUS / Adorama
XF LENSES
XF 18-135mm (save $200 – price $699): BHphoto / AmazonUS / Adorama /
XF 18mm (save $200 – price $399): BHphoto / AmazonUS / Adorama /
XF 60mm (save $200 – price $449): BHphoto / AmazonUS / Adorama /
XF 23mm (save $150 – price $749): BHphoto / AmazonUS / Adorama /
XF 56mm (save $150 – price $849): BHphoto / AmazonUS / Adorama /
XF 14mm (save $150 – price $749): BHphoto / AmazonUS / Adorama /
XF 10-24mm (save $150 – price $849): BHphoto / AmazonUS / Adorama /
XF 27mm (save $150 – price $299): BHphoto / AmazonUS / Adorama /
XF 35mm (save $100 – price $499): BHphoto / AmazonUS / Adorama /
XF 18-55mm (save $100 – price $599): BHphoto / AmazonUS / Adorama /
XF 55-200mm (save $100 – price $599): BHphoto / AmazonUS / Adorama /