Steelsring Nikon F to Fujifilm GFX Smart Autofocus Adapter Available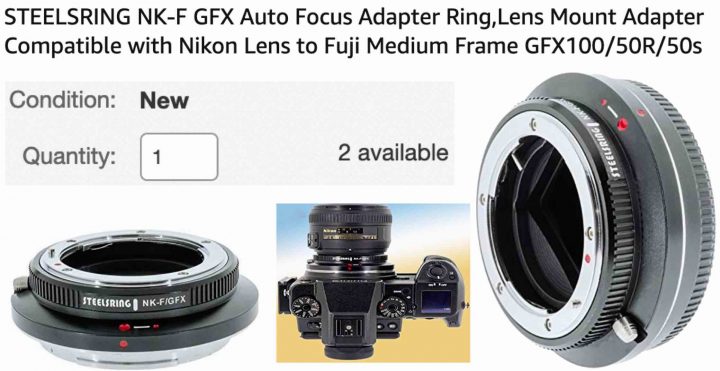 Steelsring NK-F to GFX Smart Adapter
Before we share the news about the Steelsring N/GFX autofocus smart adapter, it's important to recap:
May 2018: Development announcement of Steelsring Nikon to GFX autofocus adapter
September 2018: Beta testing delayed
March 2019: Steelsring updates its website and says the adapter is coming soon
Since then, no more news.
However, all of a sudden, the Steelsring NK-F/GFX smart autofocus adapter now appeared for sale at AmazonUS here and at eBay here.
At the moment of this article ebay has 2 available and AmazonUS is selling via this retailer.
Also, on ebay the adapter shows the "Steelsring" brand printed on it, but it is sold as a Peipro NIK-F for Fujifilm GFX smart adapter.
And last but not least, on the official Steelsring website here, there is not mention of this adapter being finally available, and the last firmware is still marked as for beta testers only.
Fuji GFX group member Paul bought it, and here is what he wrote in this post:
I contacted the seller of this item as its been 2 full business days since my order. They have responded within minutes and told me that the developer wanted to make some final changes to the product so that it's 'perfect' before shipping but that it should ship this week. So I said, fine, I'll wait. Yours sincerely
With all that said, here is what the official specs listed on AmazonUS say:
NK-F GFX Adapter Ring auto focus,auto iris (G head).

Special D head diaphragm adjustment.

NK-F GFX Adapter Ring sure synchronize exif information and support firmware USB upgrade.

Chrome plating on pure copper,wear-resistant and non discolored.

The original standard size shall be strictly implemented,and there shall be no gap,looseness and jitter when the joint is in place.
The GFX Community
Follow FujiRumors: Facebook, Flipboard, Instagram, RSS-feed, Youtube and Twitter