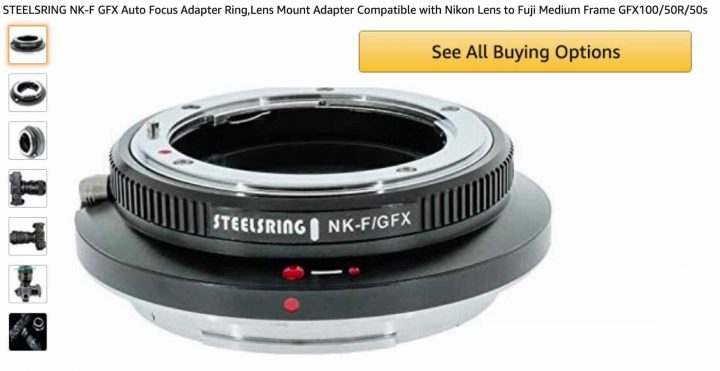 After a long wait, the Steelsring Nikon F to Fujifilm GFX Smart Autofocus Adapter started to be available towards the end of 2019.
You can find it here on AmazonUS.
No Dylan published his review, which you can see below. Here are the main points:
it's not the cheapest adapter
allows you to autofocus with the more modern Nikon G and E type lenses
good build quality
mounting on GFX mount does not sound quite as smooth as mounting a GFX lens on the body or a Laowa lens. On the other side, the Nikon mount part feels good
ability to control aperture
you have an aperture ring on the adapter for G type lenses, and you can set it to AUTO for E type lenses
E type lenses with magnetic aperture can be controlled electronically via the GFX body
G type lenses are not really fully supported. Aperture control is purely mechanical and the adapter doesn't actually know which position it is in. Aperture value is not send to the camera. The lens can only communicate to the body what its widest aperture is, but if you stop down, it is unable to tell you who much it stopped down
loose aperture ring
aperture stops are very close together, hence not easy to be accurate
autofocus speed depends a lot on the lens.
you will see wobbeling of the contast AF detect system
GFX100 phase detection system is not supported
You won't get Nikon level focus speed, because the GFX system is not capable of that
if you accept an autofocus speed a bit slower than native GFX lenses, then it can work for you
there is more or less strong vignetting depending on the lens
wide open, sharpness is not quite as high as on Nikon cameras, as the Nikon lenses where not designed to resolve over such a large sensor. If you stop down, things get much better
for more sharpness better use GFX lenses
This is the summary of the video below. But Dylan posted an article about it also on fstoppers, that you can read here.
Fujifilm GFX 100: B&H Photo, AmazonUS, Adorama, Focuscamera
The GFX Community
Follow FujiRumors: Facebook, Flipboard, Instagram, RSS-feed, Youtube and Twitter