UPDATE: Accurate Size Comparison: Fujinon XF 200mmF2 Vs. XF 50-140mmF2.8 Vs. XF 100-400mmF4.5-5.6 Vs. CaNikon Full Frame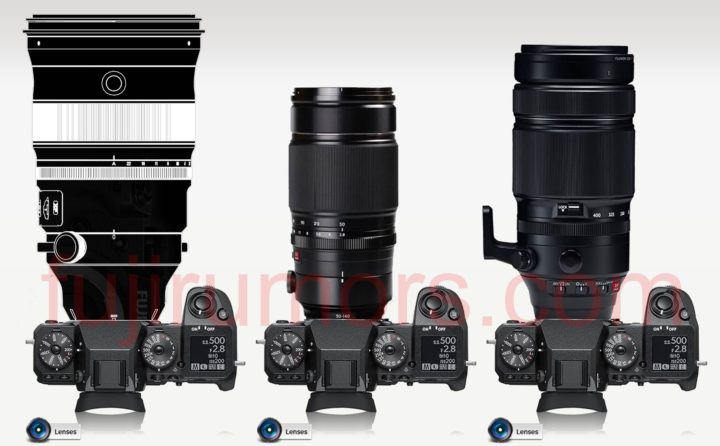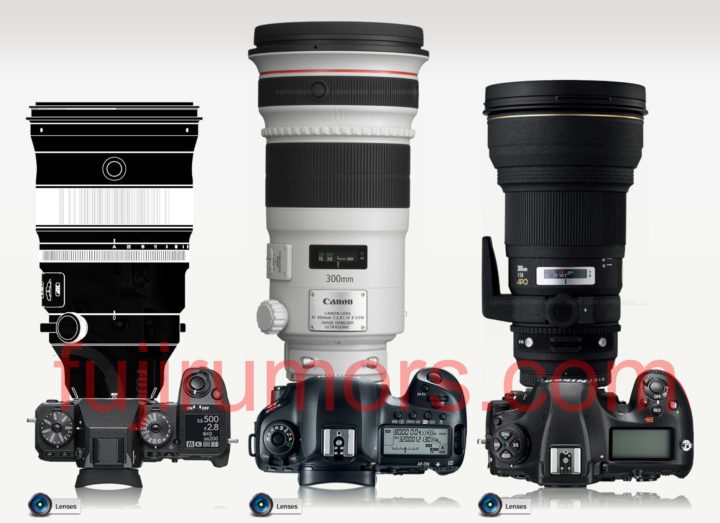 Fujinon XF200mmF2 Size Comparison
UPDATE: Added comparison Canon 5DMK IV with Canon EF 300mm F2.8L IS USM and Nikon D850 with Sigma 300mm F2.8 EX APO DG HSM. Of course the APS-C XF200mm has to be compared to the equivalent Full Frame 300mm glass, and not 200mm!
Today Fujifilm published their first episode of the "Fujifilm X-H1 Development Story".
The article includes a technical sketch of the Fujinon XF200mmF2 R LM OIS WR mounted on the brand new Fujifilm X-H1.
I used the technical sketch provided by Fujifilm (and camerasize.com) to photoshop a size comparison of the XF200mmF2 against the other big Fujinon glass, the XF50-140 and the XF100-400.
Keep in mind that there could be changes, since the sketch shows the current estimated size of the XF200mmF2. We are still in pre-production phase, so the final lens might see some changes.
The article linked above also says the XF200mmF2 R LM OIS WR will weight more than 2kg and that in order to withstand the stress, the mount part of the Fujifilm X-H1 has reinforced ribs.
FR-reader Panther wonders if Fujifilm implies, that the mount of the X-T2 can't handle that stress. I guess we will get more answers soon, when the XF200mmF2 will be announced (witihin 2018).
Follow FujiRumors on Facebook, RSS-feed, Instagram and Twitter
Fujifilm X-H1 News, Rumors and Content 24×7
Fujifilm X-H1 facebook group + Fujifilm X-H1 facebook Page
Fujifilm X-H1 Pre-orders
Fujifilm X-H1 (all combos): BHphoto, AmazonUS, Adorama, Focuscamera
Hm… I'm a happy camper with my little combo :)