Fujifilm X-H1 Development Story #1 -Frame. Fujinon XF200mmF2 will Weight more than 2kg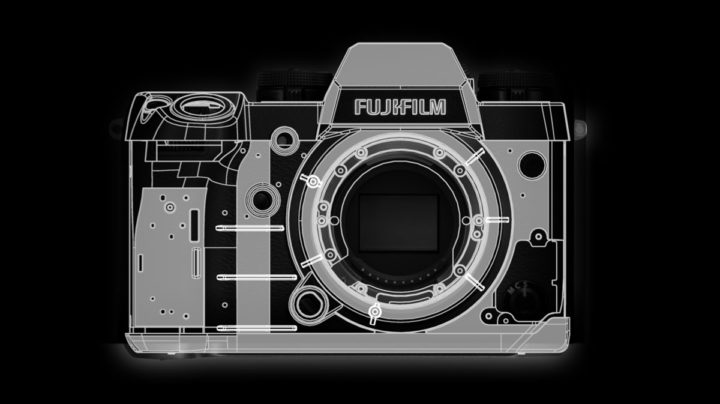 Fujifilm X-H1 Development Story
Fujifilm just published part 1 of their Fujifilm X-H1 development story.
"Let's examine the X-H1. The product planner requested the developers to make the body more robust so that new devices could be installed and the expected camera performance could be realized. In order to make the body more robust, the frame, which is made of magnesium alloys, needed to be strengthened by adding extra thickness. The frame is 125% thicker for X-H1, meaning that the frame has almost doubled in volume (1.25 x 1.25 x 1.25 = 1.95). The strength of the frame is almost twice as strong.
Portability and lightweight are the charm of the X Series. This should always be taken into account even when considering an exterior design that is more robust. The designer examined the frame closely and learned where the stress is most/least applied and where the extra strength is most/least needed. With the study, the following structure with pillars jointing the exterior part has been realized, which helped minimize the effect on body size.
[…] In near future there will be lenses that weigh more than 2kg. [note: given that they show the XF200mmF2 in the article, it's save to assume they meant the 200mm]
To withstand the stress, the mount part is reinforced ribs as shown below."
Read the whole article and see all images at fujifilm-x
Follow FujiRumors on Facebook, RSS-feed, Instagram and Twitter
Fujifilm X-H1 News, Rumors and Content 24×7
Fujifilm X-H1 facebook group + Fujifilm X-H1 facebook Page
Fujifilm X-H1 Pre-orders
Fujifilm X-H1 (all combos): BHphoto, AmazonUS, Adorama, Focuscamera
Fujifilm X-H1 Bundle Deals – Save $150
Fujifilm X-H1 + XF 16-55: BHphoto, AmazonUS, Adorama, Focuscamera
Fujifilm X-H1 + XF 50-140: BHphoto, AmazonUS, Adorama, Focuscamera
Fujifilm X-H1 + XF 100-400: BHphoto, AmazonUS, Adorama, Focuscamera
Fujifilm X-H1 + Vertical Grip + XF 16-55: BHphoto, AmazonUS, Adorama, Focuscamera
Fujifilm X-H1 + Vertical Grip + XF 50-140: BHphoto, AmazonUS, Adorama, Focuscamera
Fujifilm X-H1 + Vertical Grip + XF 100-400: BHphoto, AmazonUS, Adorama, Focuscamera
Fujifilm X-H1 + Free Domke Bag – Worth $229
Fujifilm X-H1 : Adorama
Fujifilm X-H1 + Vertical Grip: Adorama