Share your eXperience at the FUJI-X-FORUM: The New Official FujiRumors Forum!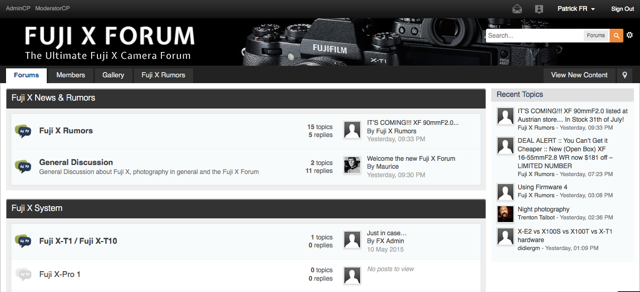 IT ENDS TODAY
It's over now.
For way too long time, I was the only one deciding which content to post on FujiRumors and which topics to discuss. For way too long time, people dropped me great stories, ideas and pictures via email, patiently waiting for me to read it, reply and share it on FujiRumors. For way too long you've been asking for a different way to interact with FujiRumors and fellow X-shooters… and today we are going to change it!
IT BEGINS TODAY
Starting from today, you can share your eXperience, your passion, your images, your questions, your work and more at the new fuji-x-forum, the official FujiRumors Forum. It will be a place, where fellow X-shooters can have an open and kind discussion about everything regarding the X-system. Feel free to join us, give yourself a fresh new start and take FujiRumors to another level ;) .
YOU SHARE AT THE FORUM & I FEATURE YOU ON FUJIRUMORS
Along with this blog, the fuji-x-forum will become my second home, and I'm sure I'll meet many cool X-shooters over there, discover amazing X-work and be inspired by you. And whenever I stumble on a great story, a great picture, an interesting thread or idea, I will mention it also on FujiRumors and give it the biggest visibility possible.
So, fellow X-shooters and FR-readers can join this journey right now and be there from day 1. Let's build up a nice, fresh, new X-space together. My name over there is Patrick FR… see you at the fuji-x-forum.
And btw, here it is, the very first image shared at the fuji-x-forum by X-shooter Harlem. And didiergm has an interesting question… do you know the answer? Then drop it here.
Thanks to the Admin of the long time German Fuji X Forum for this cooperation.