New X-T1 Firmware ver. 4.0 Announced :: A COMPLETELY NEW CAMERA to download in Late June!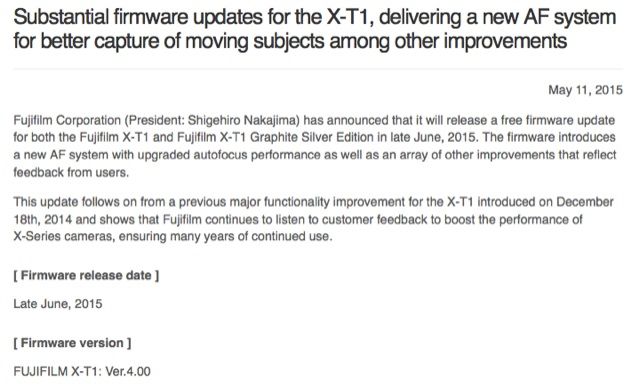 Here we go guys, the FW has just been announced, exactly on May 11, as predicted here on FR back in April.
Now all you have to do is to read the list of improvements, enjoy it and find a way to somehow manage your impatience until late June, when the firmware will finally be available for download!
"This update follows on from a previous major functionality improvement for the X-T1 introduced on December 18th, 2014 and shows that Fujifilm continues to listen to customer feedback to boost the performance of X-Series cameras, ensuring many years of continued use."
Here is the list of improvements:
(1) New AF system with Zone and Wide/Tracking modes for effortless capture of moving subjects
(2) Improvement of AF accuracy (The built-in phase detection pixels have the detection range of 0.5EV, an improvement from the previous 2.5EV, delivering phase detection AF performance that enables fast focusing in low-light conditions and on low-contrast subjects.)
(3) Eye Detection AF
(4) Auto Macro mode
(5) AF improvement in the Movie mode
Other Improvements
(1) Improved Shutter Speed Dial operation
(2) Exposure Compensation control in Manual.
(3) Finer lines on the framing grid enhances visibility
(4) Name of Silent mode changed to avoid confusion

Get Your FUJI X-SHIRT here in USA and here in Europe & CO.
Learn more about the 100% Fair Trade Chartiy X-shirts here
Thanks Daniel!