See the Impressive Fujifilm X-H1 IBIS Wobbling. Front Plate Redesign to Allow IBIS on X-Cameras or Reduce Purple Grid Artifacts?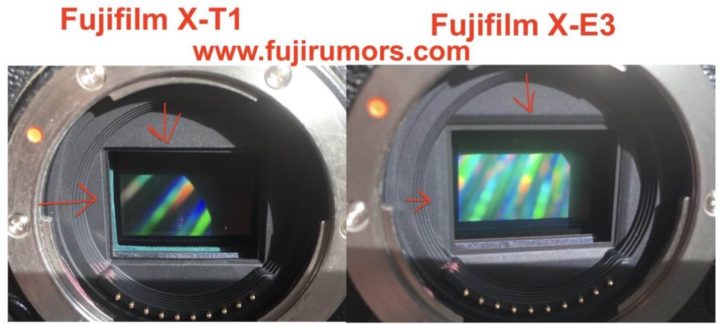 In the video above you can see how much the X-H1 sensor wobbles, going behind the front plate. That's impressive.
And you will remember, how Fujifilm said that X-mount is not compatible with IBIS, right?
So people wonder, how did Fujifilm manage to make it compatible and to make IBIS work on X-cameras without introducing to heavy vignetting?
Good question.
What we know, is that newer X-series cameras have a newly designed front plate. Just check out my old X-T1 with sharp 90° angle compared to my new X-E3 with a much more rounded angle. UPDATE: Older X-T2's and X-Pro2's have a very angled mount, while newer ones more rounded. Check it out, it's documented also on dpreview ;) .
Most likely, Fujifilm did it to fix (or at least signficantly reduce) the purple grid artifacts we wrote about it here.
However, I heared another fascinating theory, that I want to share here on FujiRumors,.
The rounded angle could allow the light to filter better in the corners, and hence reach the sensor even better, when it goes behind the mount.
Wait… I hear you say… the X-E3 has no IBIS!
But, so the theory, since Fujifilm had to redesign the mount to accomodate IBIS on X-H1 anyway, it just hugly simplifies and speeds up the production line, if you use one front plate design for all cameras, instead of manufacturing 2 different ones.
However, this theory does not convince me fully, since the front plate on the X-H1 seems to be more similar to the one of my old X-T1 than the one of my X-H1.
Join our Fujifilm X-H1 facebook group and Fujifilm X-H1 facebook Page. Follow FujiRumors via Facebook, RSS-feed, Instagram and Twitter
Fujifilm X-H1 Pre-orders
Fujifilm X-H1 (all combos): BHphoto, AmazonUS, Adorama
Fujifilm X-H1 Bundle Deals – Save $150
Fujifilm X-H1 + XF 16-55: BHphoto, AmazonUS, Adorama
Fujifilm X-H1 + XF 50-140: BHphoto, AmazonUS, Adorama
Fujifilm X-H1 + XF 100-400: BHphoto, AmazonUS, Adorama
Fujifilm X-H1 + Vertical Grip + XF 16-55: BHphoto, AmazonUS, Adorama
Fujifilm X-H1 + Vertical Grip + XF 50-140: BHphoto, AmazonUS, Adorama
Fujifilm X-H1 + Vertical Grip + XF 100-400: BHphoto, AmazonUS, Adorama
*on Adorama click "create your bundle" to see the deals
Fujifilm X-H1 + Free Domke Bag – worth $229
Fujifilm X-H1 : Adorama
Fujifilm X-H1 + Vertical Grip: Adorama