Save 55% on Capture One using this Code (Ends This Weekend) and LUMINAR 4 Deal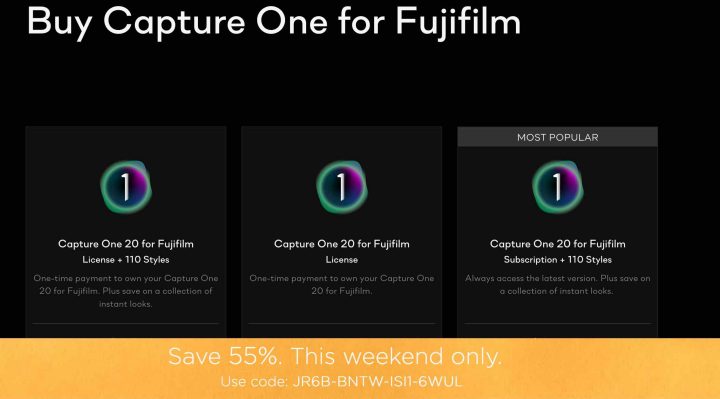 Capture One Deal
For this weekend only you save 55% on Capture One for Fujifilm (Click here) when using the checkout code "JR6B-BNTW-ISI1-6WUL".
Capture One for Fujifilm packs all features that Capture One has to offer, and the only limitation is that it will work with Fujifilm files only. The big advantage: it's much cheaper than the full version, and now with even 55% discount it's a heck of a deal!
You can also use the code for the full Capture One version that works with all cameras. You also get 55% off. (this part of the deal has been removed)
IMPORTANT BONUS: In case the above code does not work for you, use this one, to get 50% discount (only on the Fujifilm version): "W03S-CXBL-UXG1-SB9J"
As you know, I switched to Capture One a while back, and I am totally happy with it.
Luminar 4
And there is also this special 4th of July deal (runs worldwide): You pay $57 only for Luminar 4 using our code "FUJI" at checkout.

Kickstarter Boom
With this new Revoring you can use one single camera lens filter on multiple thread size lenses. No more need to carry around a dozen of them :) You can preorder the new Revoring on Kickstarter.