Samyang AmazonUS Prime Card Deals: Get the 12mm for $219, the 8mm for $199 & More Deals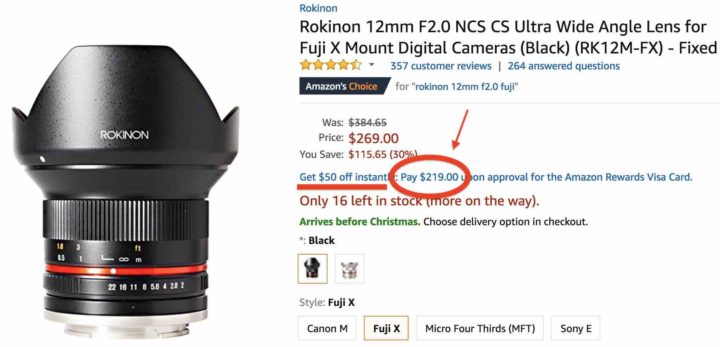 AmazonUS Prime Card Deals
AmazonUS has just launched their last minute Prime Card X-mas deals.
Interesting for us Fuji Lovers are all the deals on Samyang/Rokinon lenses.
For example:
You can see the full list of deals here. Filter Fuji X deals by selecting "digital camera lenses" and then "Lens Mount Compatibility – Fuji".
I own the Samyang 12mm and can fully recommend it. And even though I just bought the Fujinon XF10-24, I will keep the Samyang with me. It's a little lovely lens that served me very well over these years… and for $219 frankly a steal.
To grab these deals, you have to own the Amazon Reward Visa Card, which has no annual credit card fees and gives you access to special deals like this one as well as up to 3% reward on Amazon.com.
6 HOURS LEFT
BHphoto is offering the graphite X-T1 for just $599