Fujifilm will introduce a new Film Simulation called "Classic Chrome" (SRP)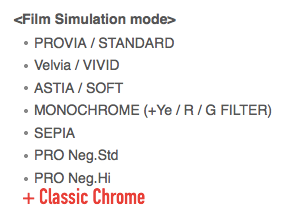 A few months ago, there was an anonymous source with nick name, who shared a correct rumor about the X-T1 with us (SRP = source right in the past). This source just wrote me for the second time and told us that Fuji will launch a new Film Simulation called "Classic Chrome".
That's all the source said. So for now… take it with… a grain of salt.
If true, I think we will see this film simulation coming with the X30 and X100T… and maybe it could also be one of the features introduced in the rumored upcoming X-T1 firmware update. But that's just my personal guess for now, so DO NOT take it as a rumor from a FR-source.
Oh, and feel free to share this rumor whereever you want, just make the courtesy to quote the source and to put a link back to FR. I have nothing against it to be quoted ;-)
stay tuned… and share rumors with Fujirumors (if you have some),

facebook, google+, RSS-feed and twitter
P.S.: And in case you just came back from holidays and didn't read FR in the last weeks, then here is a little rumor roundup and reliability rating for you. Also a rumor check-up of 2014, which will have a big update after photokina I suppose.
HIGH RATING
– X-T1 new firmware update is coming (posted August 15)
– X30 with 2/3 sensor
– X30 with EVF
– X30 EVF specs: same magnification of X-E2, same resolution of X-T1/X-E2
– X100T successor of X100S
– XF 120-400
– X-PRO2 with APS-C sensor
– No more X-PRO1S, all R&D placed into the X-PRO2
– X30 coming in summer (so there is time until September 20)
MEDIUM RATING
– "Classic Chrome": Fuji's new film simulation
– X30 lens: 28-112mm f/2-2.8 (same as X20)… but with dual ring!
– Nissin i40: first lot of flashes available early September (the actual availability date will be various between countries, so in some countries it could come a little later)
– XF 35mm MKII (As Fuji has first to complete its lens lineup, it could take a while before the 35 MKII hits the market… and Fuji can change plans in any moment regarding this lens.) PLEASE NOTE: This rumor was not reported accurately by other sites (as petapixel and mirrorlessrumors). They quote FR, but say that the lens is "coming soon". Which I never said. None of my sources ever told me a release date. In fact I said on May 5th: "I do not know when it will be launched nor which improvements we can expect, but, as you may guess, I'm restlessly working on it."
– Faster AF for the 35mm MKII (This rumor is separated from the first 35MKII rumor, as it comes from another source and was posted in another article)

– X200 with 24MP, tilt screen, improved AF and wider detection area (Medium rating as I think that some, but not all the specs will be correct. The name has changed almost for sure to X100T).
– Button Upgrade for the early produced X-T1′s with mushy buttons.
– X-PRO2 available in 2015
LOW RATING
– X30 Battery: more than 400 shots with one battery and USB-charging (AS)
– Fujifilm will launch three non-interchangeable lens X-cameras within this winter (winter 2014/2015)
– Sigma X-mount coming at photokina
– Medium Format Fuji (there are several anonymous sources telling me that this rumor is wrong. But I will post an update only when a trusted source speaks. And if they say, as to expect, that it is not correct, I'll move it into the "wrong rumors" list)

_ _ _
2014 rumor check
NOTE: You will see for example some X-T1 rumors (and others) listed sepratately. This is due the fact that there was, for example, a source telling me of a tilt screen, while another told me at a different time about the price and so on.
It's fair towards my sources not to put everything together in the same pot and simply say "X-T1″, as every rumor listed here comes from a different source and was posted in different articles and could have been right or wrong.
Obviously the same goes for the wrong rumors. I don't simply say "18-135 announcement", but shared all 3 wrong release dates separately, so that they result as 3 errors and not as one (although Fuji originally really planed to release it togther with the X-T1 in February… but what was correct at the time of sharing, is wrong because Fuji changed plans afterwards).
CORRECT RUMORS IN 2014
– XF lens deals coming tomorrow (August 10): discount on some XF lenses : : XF 27mm will drop from $449 to $299!
– X-T1 bundle deal starting 3rd of August (with free vertical grip and spare battery)
– XF 90mm f/2
– XF16mm f/1.4
– XF 18-135 coming June 16th
– X-E2 deal
– X-E2 firmware update with X-T1 EVF refresh rate coming soon (correct, it came a few days later)
– TCL-X100 will be out end of May (correct. It's available since then in Japan, now also in Europe. Still out of stock in USA)
– TCL-X100 will cost €250 and be a bit cheaper than the WCL (correct. AmazonDE sells the silver version for €249, while the discounted WCL still costs €269)
– TCL-X100 will cost $350/400 (correct, it costs $350 at Bhphot & Co)
– TCL-X100 coming second half of April (correct, announced April 22)
– Lightroom 5.4 coming next week
– February/March lens deals with confidential Fuji document
– With the next update, Adobe will support X-Trans film simulation
– X30 won't come in February/March as rumored by digicame-info
– Image and size comparison of the 10-24 with a protype 18-135 (real image)
– XF 16-55 and 50-140 will be weather sealed
– X-T1 announcement in January 28th at 4:30 AM London Time
– Improved WiFi for the X-T1
– UHS-II SD card slot, but no double SD-card slot + 8fps with AF tracking (Fuji originally planed a dual SD-card slot. When the first X-T1 image leaked here on FR, it even looked like a dual SD-card slot, but the Japanese source said it has just a single SD-card slot)
– X-T1 will cost $1300 / €1200
– First images of a prototype X-T1
– Firmware update for Zeiss will add PDAF support
– Tilt screen for the X-T1
– The name of the weather sealed X will be X-T1
– X-T1 will have the best EVF on the market
– black X100S will have a retail price of about £1000, about the same as silver version (the final retail price in UK is RRP £1099.99 for the black and £1049 for the silver version, according to wexUK. But now both are sold cheaper).
– XF56mm announcement at January 6th
– black X100S will be the only "new" X-camera presented at CES
WRONG RUMORS IN 2014

– X-T1P release with 4K viewfinder in July [An upgrade (or special/limited edition) is possible, but not in July.]
– XF 18-135 announcement on Memorial Day. NOTE: I excluded the rumor of an 18-135 f/3.5-4.8, as this was a typo by Fujifilm at the CP+ (see this image), and I just reported about it.
– XF 18-135 will come in May
– XF 18-135 in stores in February
– X-PRO2 with FF sensor (wrong, and corrected a few weeks later by a trusted source… and who knows if Fuji will change plans again)