Rocket Start: Fujifilm GFX100S Beats Them All and Success Beyond Fuji's Dreams – NEW SURVEY INCLUDED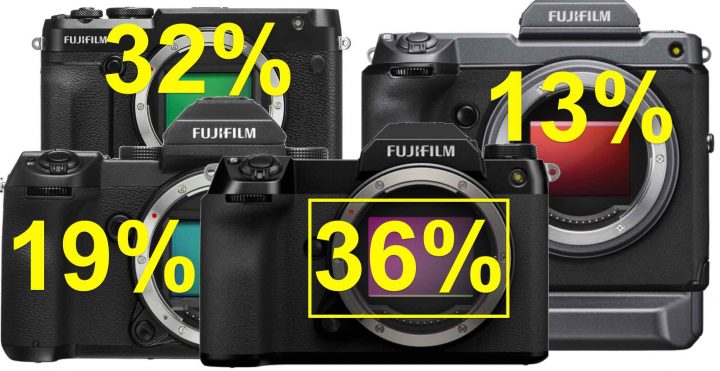 Here is the thing:
I keep getting feedback from FR-readers all over the world, about when their local stores will be able to ship the Fujifilm GFX100S. And they all tell me the same: best pre-orders for any GFX camera. Waiting time is long.
I have one on pre-order, too, and I can confirm this also from my local store.
And although waiting is the hardest part, I also know I have tons of X series gear to photograph the wedding of my friend in July (if COVID allows) and to take epic shots of my local mountains, the Dolomites in South Tyrol.
So, I am well equipped and I can wait for the GFX100S, as my X series gear is and will always remain the best balanced system of all systems out there.
So why GFX for me?
Well, because going full frame makes no sense for my needs.
It's really a negligible difference compared to X-Trans APS-C (and I highlight "X-Trans!"). What I miss from current FF systems is certainly not image quality, but some features like animal AF for example, a feature Fujifilm was offering as first company ever with the Fujifilm F80EXR 12 MP Digital Camera. So Fuji, just take out those old algorithms and make them fit for Fujifilm X and GFX.
If I am looking for a camera that offers me a sensible jump in image quality for my landscape photography, then I better explore the world beyond full frame, with a sensor that is 70% fuller than full frame and camera that is smaller than the full frame Panasonic S1 series and cheaper than the Sony A1.
So, for me, it just makes sense to add the GFX system to my camera bag.
And it seems that many thought this way, as the Fujifilm GFX100S is, according to our latest survey, the most owned Fujifilm GFX camera among the FujiRumors community already
Yep, you heard it right: in just a few weeks the Fujifilm GFX100S surpassed all other Fujifilm GFX cameras in terms of sales here on FR.
This is something Fujifilm wasn't even dreaming of. Now their Nr.1 challenge will be to ship that good thing.
And since we have so many new Fujifilm GFX100S owners, I was curious to know, which system you are coming from.
Of course, those who pre-ordered the GFX100S qualify as GFX100S owners and hence can vote the survey. You can tick more than 1 box if that applies to you.

Loading ...
Follow FujiRumors on Patreon, Facebook, Instagram, RSS-feed, Youtube, Flipboard and Twitter
Latest GFX Gear