POSTPONED: Nissin i40 flash for Fuji-X delayed to "undetermined release date" + PRE-ORDER at B&H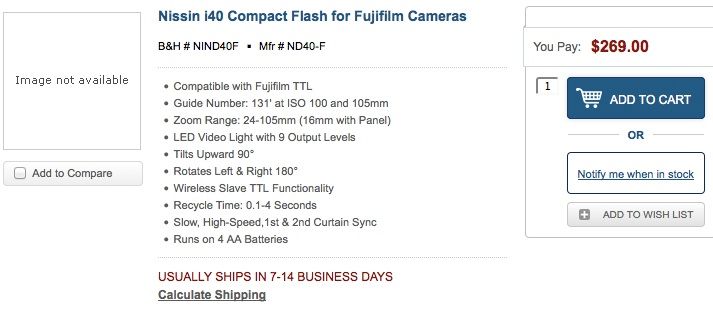 the Nissin i40 is listed as ready to ship in 7-14 days at BHphoto… too optimistic?
_ _ _
The Nissin i40 flash for Fuji-X was rumored to come in September. But now Nissin released an official note, where they say that the Fuji-X version of the flash, originally planed to be launched in September, is now delayed to undetermined release date (from the google translated dc-watch article) ." Read Nissin's official note here (translation) or also at dc.watch here (translation).
So the rumor, shared back on July 4th, was correct at the time of sharing, but there was a last minute delay.
The Nissin i40 is a new great super compact powerful and flexible flash with ergonomics of the Fujifilm EF-X20. It recently won the TIPA Award 2014 for the"Best Portable Lighting System".
"The small (3.35 x 2.4 x 3.35 inches) and lightweight (203g, without battery and soft box) Nissin i40 is available in models dedicated (TTL) to Canon, Nikon, Sony, Four thirds and Fujifilm models, and can cover a lens angle of view from 24-105mm, with additional coverage to 16mm with the supplied diffuser. The Guide Number is 40 at the 105mm setting (meters/ISO 100) and 27 at 35mm. An innovative LED illuminator sits where smaller fill flash modules were in the past, and the light can be used for both still and video recording with 9 steps of output. The i40 offers rear, front curtain and high-speed sync, wireless slave and can be swivelled up to 180 degrees right and left and 90 degrees vertical."