Novoflex Automatic Bellows for Fujifilm X and Other Mirrorless Camera Systems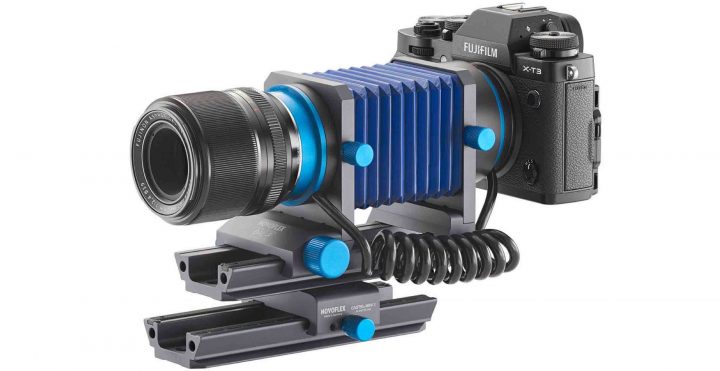 Novoflex just announced new automatic bellows for many systems, including Fujifilm X.
Novoflex bellows can be found at BHphoto, AmazonUS and Adorama.
Press release (google translated):
New NOVOFLEX automatic bellows units
NOVOFLEX is expanding its product portfolio
Automatic Bellows
Bellows have been part of NOVOFLEX's core range since 1969 – the year of the first moon landing – and are used by macro photographers worldwide. From now on, users of the camera systems Canon EOS, Canon EOS-R, Fujifilm X, L-mount (Leica, Panasonic, Sigma), MicroFourThirds (Olympus, Panasonic), Nikon Z and Sony E-Mount with the proven NOVOFLEX automatic -Balgengeräte immerse yourself in the fascinating world of close and macro photography.
It does not get any more convenient because all control information between the camera and the lens is transmitted. Already with the camera lenses, image scales of 1: 1 and larger can be realized. The ideal solution is the high-resolution, apochromatically corrected Apo Digitar 4.5 / 90 mm objective head (order code: FLEX-APO-DIGI90) from Schneider Kreuznach, which allows focusing from 1: 1 to infinity. Since the new automatic bellows units are perfectly integrated into the NOVOFLEX "modular system", there is nothing standing in the way of later upgrading to the use of manual lenses. In addition, the lenses can also be used in retro position on the bellows devices. NOVOFLEX also has the corresponding close-up adapter in its extensive product portfolio.
Furthermore, the new automatic bellows units are also of interest for cameras with internal stacking function, as now also image scales over 1: 1 can be realized.
Camera system / order code
Canon EOS / BAL-EOS
Canon EOS-R / BAL-EOSR
Fujifilm X / BAL-FUX
L-Mount / BAL-LET
MicroFourThirds / BAL-MFT
Nikon Z / BAL-NIKZ
Sony E-Mount / BAL-NEX
The automatic bellows devices are available from mid-September and cost 799, – Euro (RRP). The FLEX-APO-DIGI90 is available at an EIA of € 1,099.00.
Full news on Novoflex (google translated)